CNR is an Italian company located in the beautiful Lombardy area. With its 4 divisions (CNR Torque Tools and HiP Systems, CNR Sliprings, CNR Pipe Tools and CNR Machines) it is specialized in the supply of:
Equipments for Controlled Bolts tightening, Bolts tensioning, Lifting devices and Induction Systems
Tools and Systems for working Pipes and Plates on site
Electric manifolds for transferring signals and powers
Sheet Metal Working Machines mainly for Cutting, Bending, Threading and Drilling
It is for its Torque tools division that CNR is using modec pneumatic nutrunner NR08.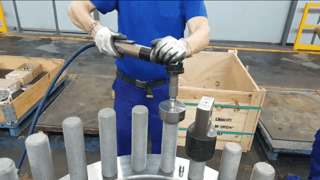 One of CNR customer, a valve manufacturer leader, is using a pneumatic angular nutrunner in order to screw heavy duty studs on body valves. The tool is composed of a modec reversible pneumatic motor which characteristics had been set up to be used up to stall torque on which CNR has integrated a torque limiter in order to avoid risks of jolts for the operators wrist, so that operations are safe, faster and more precise than before for the following reasons:
When studs arrive at the end of the body valve threads, the operator doesn't have any shocks at the wrist so he can go faster, always at maximum speed without to decrease speed near the end of the threading because afraid of to have bumps.
Using simple threaded sockets (without the needed to buy any special and expensive sockets for any sizes) enables to clamp and tighten the studs in the body valve without a risk of getting locked (tightened). This characteristic prevents from any risk of untightening the studs by the body valve when you untighten the special combination tools for to start with the tightening of the next studs.
The use of a controlled torque device between the nut runner and the socket allows the operator to set different torques for each size of studs.
In addition to these two important characteristics, some other features make the use use of this Modec nut runner very convenient:
The modec nutrunner is equipped with a handle and a left/right lever which enables the operator to select the motor direction easily and safely.
The modec nutrunner is versatile : Without torque limiter, it is also used for testing small and medium size valves with integrated gearbox on top. It connects to the tool's gearbox with a special sockets mady by the customers themselves and rotates the ball clock-wise or counterclockwise easily from wide shut to wide open positions.
To put it simply, this Modec tool brought a faster, cheaper, more reliable and easier maintenance than competitors!
An air nut runner has been preferred over an electric one. This CNR customer was already using pneumatic for other matter, so a compressed air network was already available. Moreover, pneumatic tools offer a lower total cost of ownership and greater productivity over the long term. Those tools have also the advantages to avoid any risk of electric shocks and present superior ergonomics and power to weigh ratio as the motor is much more compact.
CNR chose to work with modec air nut runner for various reasons. Regarding Claudio Negroni – CNR CEO – "modec delivers high quality and high durability products. Their delivery time is also one of their main strength as my excellent relation with my dedicated sales person."
This statement clearly illustrates what are modec values and the way we like to do business. Here at modec, we constantly do our best to deliver top quality products in super short and reliable lead times. Carefully assembled in our French factory, using parts designed by our engineers and manufactured by thoroughly selected French and European suppliers, our products deliver the highest quality standards.