The rolled steel coils are tensioned in order to distribute the metal correctly in the production line. This operation is generally carried out by hand, even in workshops where everything is automated. This represents an effort and a demanding task for the operator who must at the same time supervise production.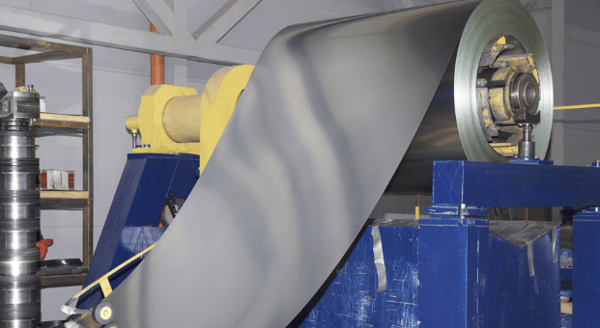 A total autonomy of the laminated steel coil mandrels?
In production lines where all operations are robotized, it is obvious that the question of full automation of the mandrels of metal coils has arisen. The major players in the various industries have therefore contacted Modec to find solutions. After discussions with our customers, we realized that this sensitive operation nevertheless required human intervention. Operating the metal coil mandrels requires the knowledge of a trained operator, a job that a simple machine cannot do according to our customers. We therefore had to consider a solution for semi-automating the cores of rolled steel coils.
The solution: semi-automation of metal coil cores
We have therefore developed a turnkey solution to facilitate the operation of metal coils by operators. An air motor is provided to the operator next to the rolled steel coil so that he can connect the motor to the coil and operate it effortlessly and more quickly.
To operate the metal coils, the required torque is 250 Nm, which translates into a 2000W motor that weighs only 5 kilos in pneumatic! Our motors are compact but powerful and offer total safety to the operator but above all easy handling. We studied and designed an extension to balance the whole solution, which offers more comfort to the operator. The latter can, with one hand, operate the motor with the on/off handle and reverse the direction of rotation with the lever, then, with the other hand, vary the rotation speed from 0 rpm to 100 rpm.
Increased security for the operator and cost savings for the company
These chucks can be difficult to operate and the operator must therefore apply a high force that can cause injuries, particularly to the arms and back.
In addition, frequent handling of metal coil chucks and repeated actions by the operator to operate them can lead to serious illnesses related to this activity. Hip pain, musculoskeletal disorders, tendonitis in the elbow...
Handling rolled steel coils is therefore an operation that can be dangerous for operators and, therefore, costly for companies. It is necessary to take all precautions to limit risks and accidents.