Whatever is your business, and whatever are your working conditions, it is always vital to consider health, safety, and risks of property damage, before installing air motors.
Even though the risks of using pneumatic motors are lower than when using electric motors, particularly in relation to overheating or explosion, some precautions must still be taken.
We suggest that you install a specific safety accessory, named the SAT BOX:
The SAT BOX (Safety Air Treatment Box) is a safety device aimed at protecting people and material against damages and accidents.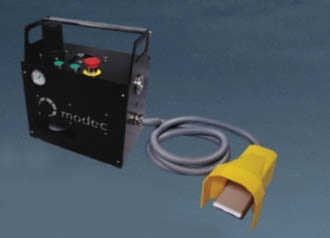 Placed upstream from your pneumatic actuators (motors, piston or any portable pneumatic tools) the SAT BOX provides numerous important safety features:
Emergency kill switch with the possibility of locking it with a key so that no start is allowed after an emergency stop.
Downstream automatic air bleed when shut-off. No residual energy remains in the pipes after shutting off the circuit; the system is 100% inert.
Air pressure drop or leakage detection in the air supply network and automatic shut off in order to prevent from any untimely start up when pressure comes back.
Two modes : Continuous flow (button "Autostart") or remote control (handle or pedal) for an easy control of the motors while keeping mobility.
All these safety features are energized by air pressure, without any other energy source required.
It also handles the three basic air treatment functions:
Regulating the pressure
Filtering the air
Lubricating the motor.
Indeed, the SAT Box includes a high capacity FRL system, which is required to treat the air as well as allowing the air pressure to be precisely controlled.
In view of the features that it offers, the SAT Box can be compared to a "pneumatic circuit breaker" that significantly reduces the risks of injury or property damage in the event of an emergency stop or an accidental start. ATEX certification is also available upon request.
---
As you are now familiar with the benefits of pneumatic motors, as well as additional tools like the SAT BOX, please don't hesitate to contact us to start a joint project using Modec's motors and solutions and tailored to your business needs!
---