So many changes in 10 years! Our customers and partners who use our current catalog (published in 2010) must sometimes be surprised (or worse!) to see how obsolete it is today. As a matter of fact, this catalog contains only one fifth of the motors we offer today.
It does not mention the options that exist and that make the difference (speed regulator, ATEX, stainless steel...).
It does not list some of our main innovations in terms of safety and air treatment (SAT Box) and the motor performances indicated are now outdated after years of innovation and continuous improvement on our range!
Many apologies! We have been too late in releasing our new catalog. But to freeze a product catalog in a company as innovative as modec is quite a challenge!
Finally, here it is, it will arrive in a few weeks and will be for you, we hope, the opportunity of many discoveries. In the meantime, here is a short presentation of what you will find.
Changes in the modec air motor reference: the easiest road to your new air motor
Although it might seem complicated when you first see it, modec air motor product reference is the simplest way to define your motor. Follow the guide: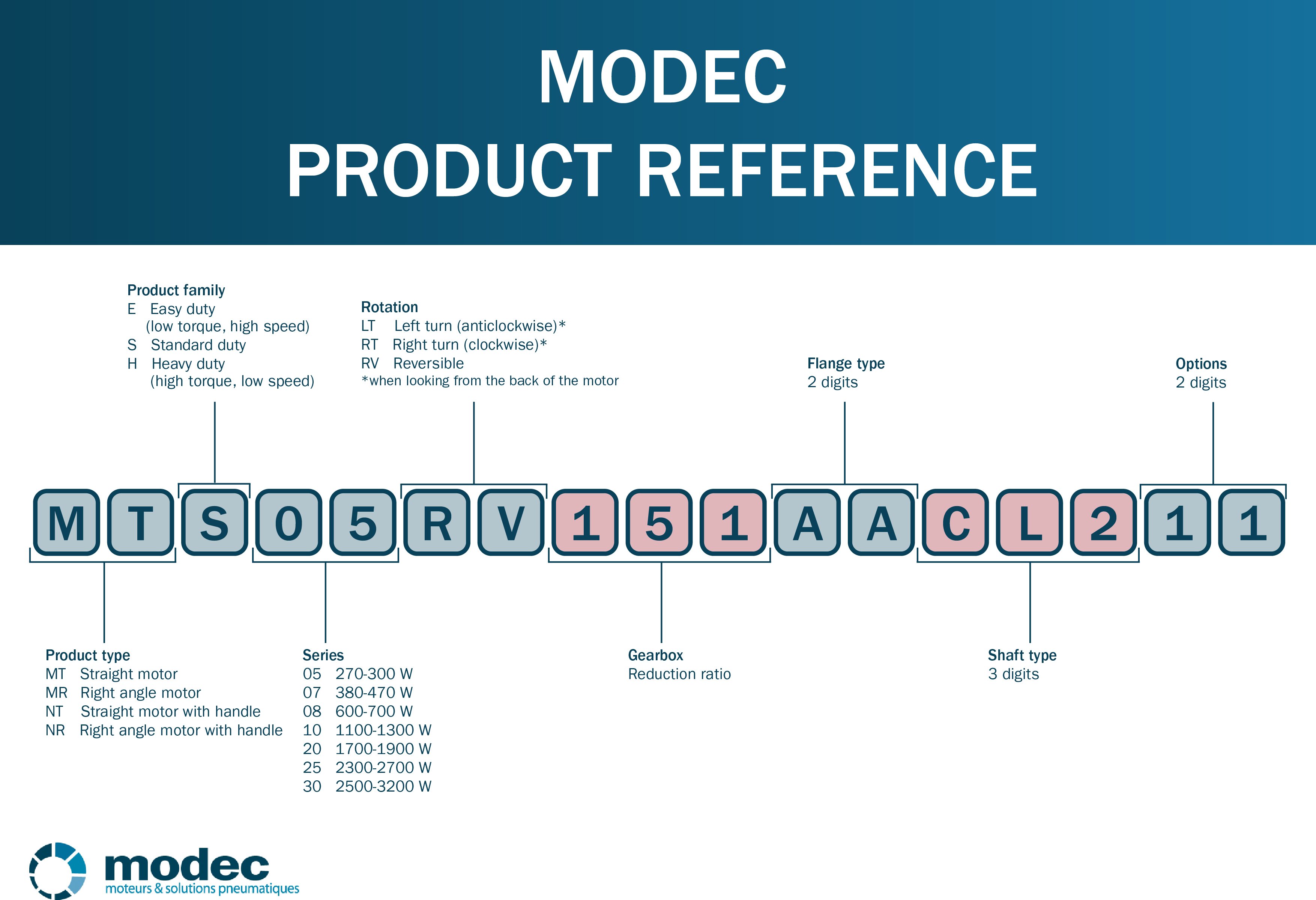 modec air motors are sorted into 4 main families to meet all needs
Easy Duty
The easy duty air motors are dedicated to speed. They are light, compact and optimized. Our easy duty motors are not equipped with a reduction gearbox and are suitable for applications with high speed and low torque.
Standard Duty
Our standard duty air motors are the most versatile. They are well balanced between speed and torque. They have an integrated compact reduction gearbox in order to provide intermediate torque and speed values.
Heavy Duty / Super heavy duty
The heavy duty air motors are dedicated to applications with high torque. Compact and sturdy, they are equipped with a strong and sturdy reduction gearbox. This allows us to increase the torque while reducing the speed range of our motors to meet your requirements as closely as possible.
Power range of modec straight air motors
Modec has a complete range of air motors from 300 to 3200 W with different gearboxes to adapt to any application.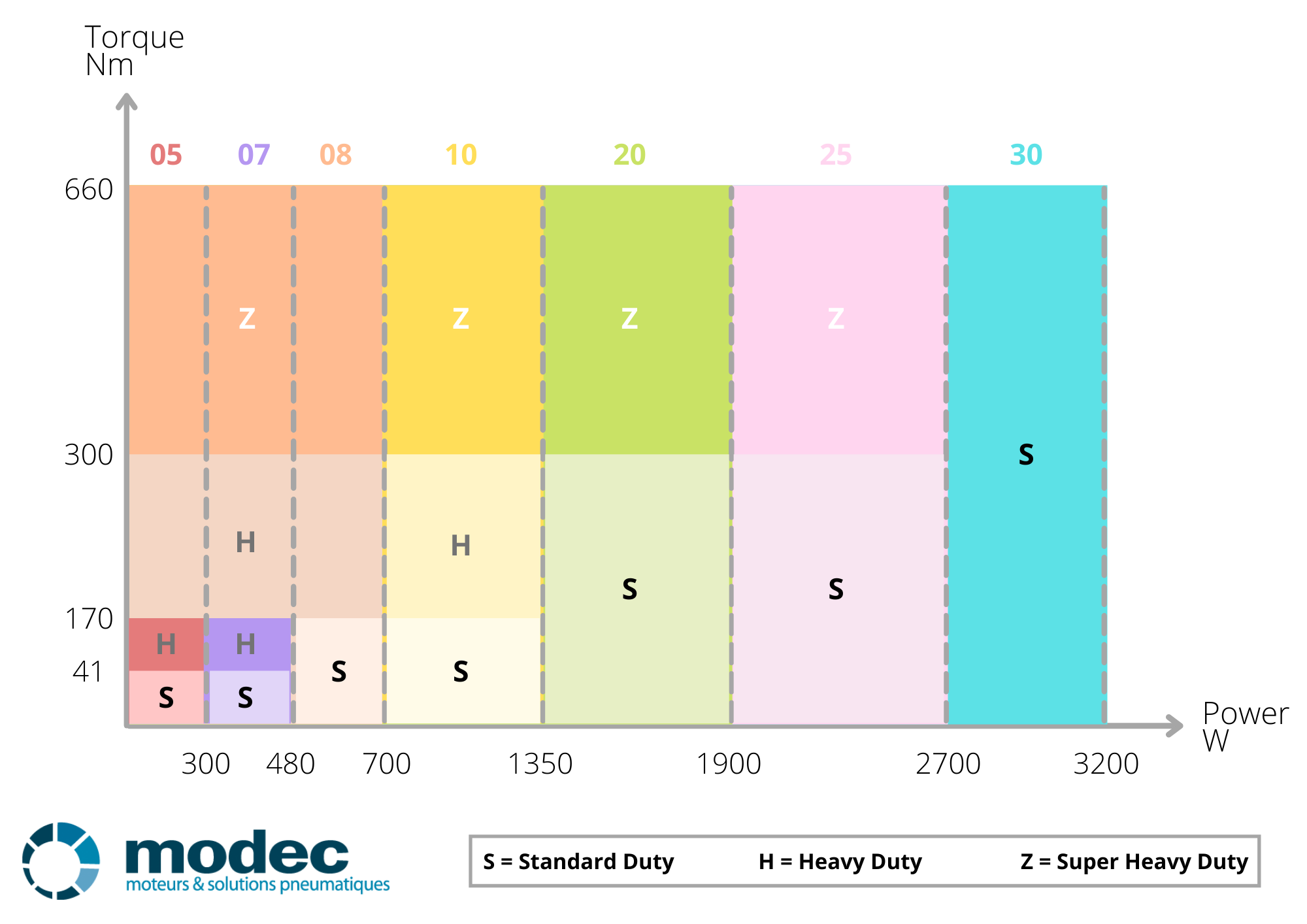 Power range of modec right angle air motors
modec right angle air motors are space saving and more torquey than straight motors.
We have developed different right angle heads for all our motors with different compactness and torque resistance so that you can optimize size while getting the strength required. These right angle heads are divided into three sizes in order to reduce the weight and space requirement of the motor (RA20, RA25 and MR30). With the right angle head, we offer an additional reduction that allows controlling the motor performance so that it fits as closely as possible to our customers' requirements.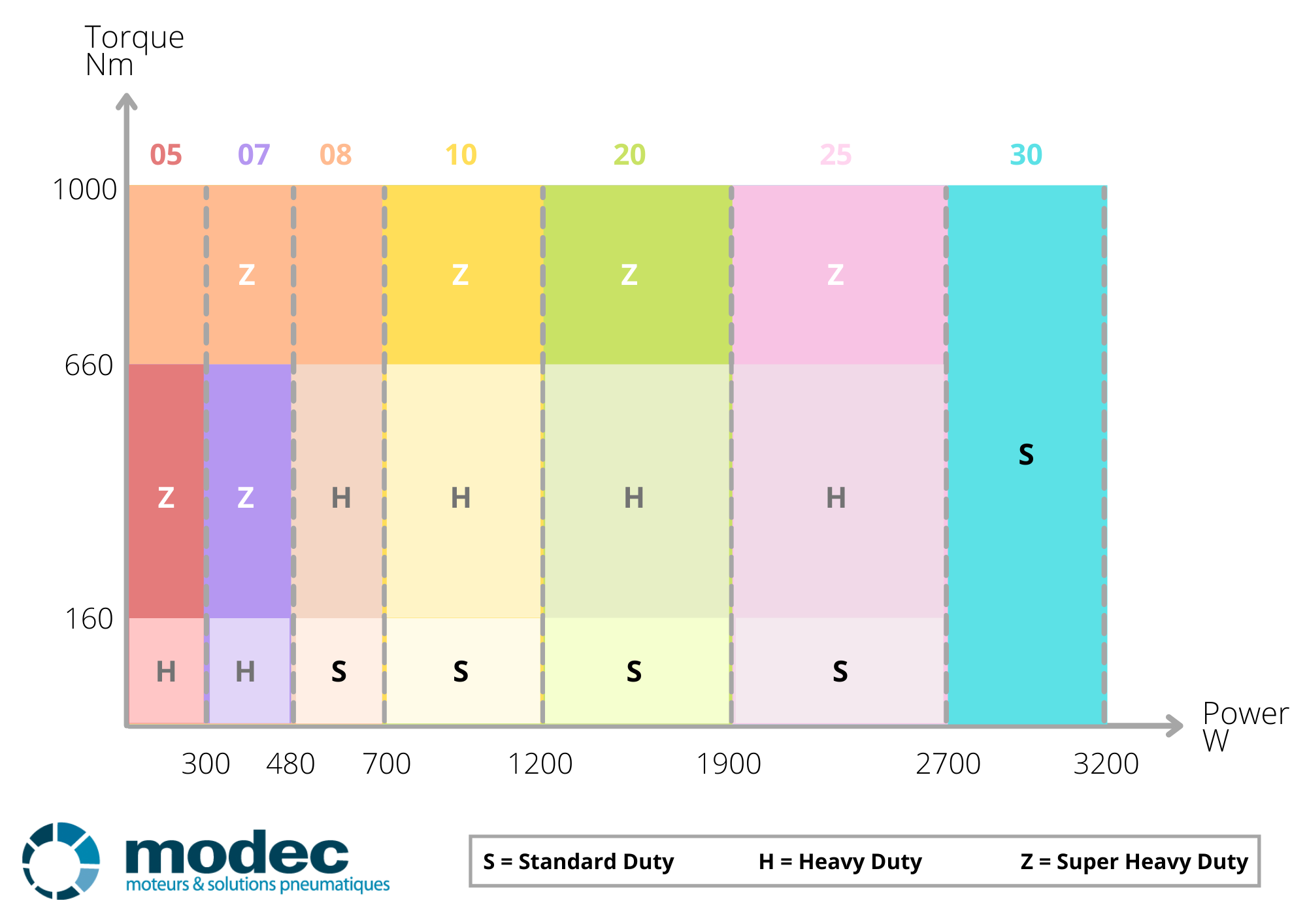 Air motors with handles
Modec has developed two kind of handles that can be combined:
Safety handles (dead-man handle)
With the safety handles, the range of functions of our motors expands to offer an ergonomic and safe user interface. Our handles are equipped with an automatic stop in case of release. We can also offer a "reverser trigger" that allows the direction of rotation of our reversible motors to be reversed by simply pressing the lever.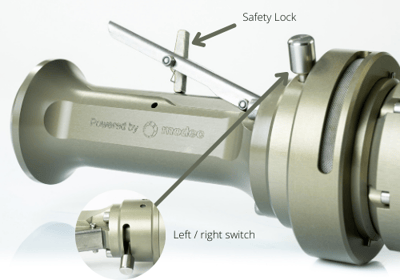 Progressive handles (control handle)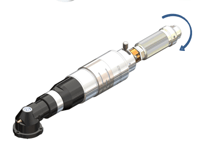 With the progressive handles, you can control the speed of your air motor. It allows a progressive acceleration and deceleration of the speed. In case of release of the handle, it will automatically stop for safety. Progressive handles can also be equipped with a left-right switch that allows changing the direction of rotation of the reversible motors.
Air motors flanges and shafts
Assembling the motor to the machine is as important as defining the good motor! modec proposes more than 100 different flanges and 90 different output drive shafts in order to make sure that you will find the one you need.
We work with a wide variety of customers, so we have developed flanges and outlets for each application as standard on our motors. In addition, if you do not find the interface that suits you among our standard offer, we will be able to design an interface especially for you, after studying your specifications.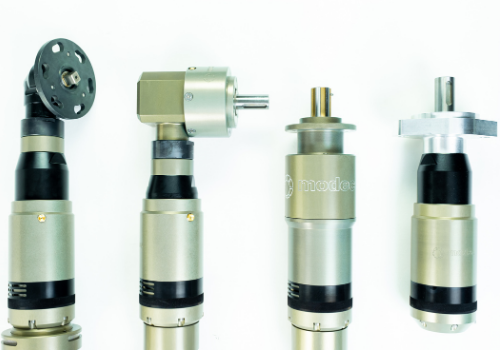 Options available with our air motors
Collecting air exhaust may be critical in some applications:
It can avoid environment pollution (Chemistry, Pharmacy, Food industry)

Avoid exhausted air pollution (Nuclear)

It allows to work under water
It can also be simply more comfortable:
Plug a silencer (reduce noise)

Plug a filter (avoid oil reject in the air)

Plug a speed control muffler
All modec air motors can be ATEX certified: II 2 GD c IIC T6 to T4
Our lubrication free motors are for applications where exhaust must be 100% pure. Nevertheless, some precautions must be taken:
Extra care must be brought to air cleanness (dust, moisture)

Life expectancy is shorter than lubricated motors

Maintenance should be more frequent especially when pneumatic part of the motor runs at high speed
The "kit start" is a system that ensures that blades are always out of the rotor when not running so that there is no risk they will be stuck inside the notches
-> Particularly appropriate to applications where there are short operations cycle with long idle period.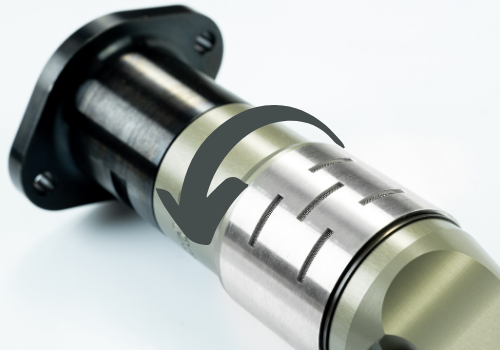 This system enables a manual and easy speed control just by manually rotating the motor filter-silencer
Particularly appropriate to manual applications where speed must be controlled (machining for example)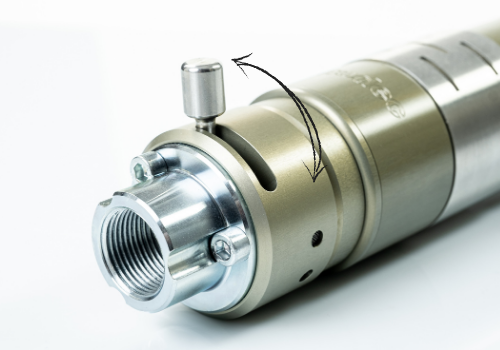 The integrated left/right switch saves time and money for installation:
It is also an easy way to change rotation direction:
Just switch the lever on the motor

No need to stop the motor

Stainless steel air motors are available as standard on the "07" range and optional on our other ranges of air motors.
8. Air motors maintenance kits
Air motors are extremely robust and almost maintenance free. However, in order to keep original performances, it is advisable to replace a few parts every year or after 3000 working hours. In case of specific usage or environment, that periodicity may be shortened.
The maintenance kit contains:
Blades
Bearings
Filters
O-rings …
One maintenance kit contains parts for two maintenances
FRL units enable a proper use of your motors by cleaning the air before it is used (eliminating moisture and dust) and setting and controlling the air pressure.
It should always be installed less than five meters upstream from motors and you should also check flow capacity!
AC106 for "05" and "07" series
AC107 for "08", "10" and "20" series
AC108 for "25" and "30" series
The SAT Box brings SAFETY to people & material thanks to
An emergency kill switch
A key safety lock (optional)
A downstream automatic air-bleed
No residual energy remains once the SAT Box is stopped. Also, there is no automatic restart after an air pressure drop. The Safety air treatment box has remote control systems in option.
Each SAT box has an integrated Filtration, Regulation & Lubrication unit:
AC118 for "05" to "20" series
AC119 for "25" & "30" series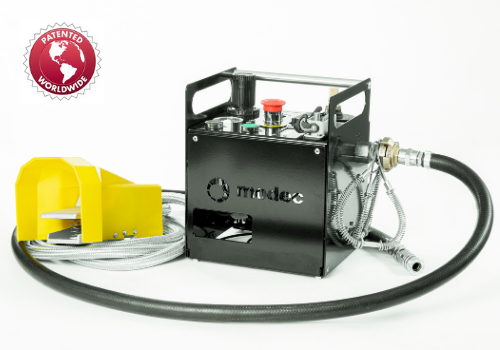 Lubricating oil specially selected for modec air motors and actuators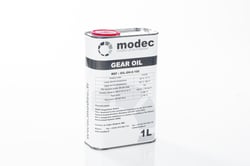 Synthetic oil
Kinematic viscosity at 40°C : 22cSt
Viscosity index : 145
Volume mass : 824 kg/m3
Flash point : +210°C
Pour point : -55°C
Temperature of use : -55 to 130°C
Silencers for air motors are sortied into four main categories:
Standard exhaust silencers
Metallic or plastic
Compact
Prevent any impurity from entering the motor
Check maximum flow capacity!
Heavy duty exhaust silencer
Won't clog up even in harsh environment
Corrosion-resistant metal
Withstand shock and continuous, heavy duty use under many conditions.
High flow air mufflers
94% flow factor
85% noise reduction
No oil fog
Corrosion-resistant material for long life
Maintenance-free
Exhaust silencer filter
Reduces noise level
Eliminates solid particles and oil aerosols
Manual and automatic drain
Exchangeable cartridge
Use in vertical position

13. Speed control mufflers
Polyethylene Speed Control Muffler
Reduces air exhaust for ΔP and speed control
Very light & compact
Noise reduction
No impact on starting torque
Speed controller
Used for air inflow and/or outflow control
Can be installed on the air network
Effective speed control
Should you have any question, don't hesitate to contact us !