A penstock or cofferdam is a type of sluice gate or chamber designed to provisionally hold back water in a given place and surface area. These types of valves are predominantly used to regulate or isolate fluids in open canals for use in water treatment factories, in hydroelectric centres, irrigation, ducts and such like.
These valves are generally located outdoors, often away from an energy source, which means they are usually opened manually using a hand-wheel or turnkey.
Why use a

portable actuator

to open and close penstock valves?
If a valve is not opened regularly, there is a risk it will become more and more difficult to turn. So, to avoid this sort of problem, estate managers put in place regular preventative maintenance schedules to ensure that all the valves can be easily activated at all times.
Furthermore, operators risk injuring themselves if they are constantly having to exert force to open manual valves or, worse still, they ignore standard procedures and use "unconventional" or perhaps "acrobatic" methods to open a blocked valve.
By trying to force open a blocked valve, operators can also damage or break the valve.
If you want to protect your operators and your equipment, it's very simple: use a tool that helps to activate the valves – a portable valve actuator!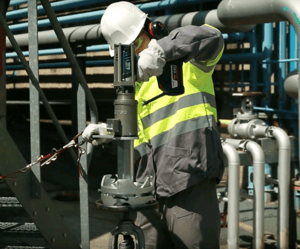 Our electric portable actuator is the must-have tool for opening and closing penstock valves easily and in total safety.
It's easy to transport, easy to set up, and is autonomous in terms of energy supply (battery operated) – in other words, ideal when it comes to activating valves in isolated spots far from an energy feed.
Thanks to its long-life battery, the modec electric portable rotating actuator can work at high level power for more than 30 minutes. It doesn't rely on an external energy source (electric socket or compressed air supply) and can therefore be used, without difficulty, wherever it's needed. The tool is very robust and comes with an integrated clutch system which will protect both your operators and equipment should the valve be completely blocked.
The power limiter (available with all our Standard and Heavy Duty models) and the torque limiter (for Easy Duty models) make it possible to adapt the actuator to any type of configuration and provide even greater operator safety.
To make our portable valve actuator easy to connect on to a penstock valve, we have developed a complete range of adaptors and interfaces. And if none of our standard solutions meets your needs, our design team can draw up a made-to measure flange to adapt the tool to your exact requirements! At modec, that's what we call service!
Our portable valve actuators have a large torque so that they are capable of oepning difficult valves if needed. In this case, it is important to protect your operators by systematically using a torque retention system.
To find out more about our portable valve actuators, watch our presentation videos or download our catalogue. And, of course, feel free to contact us at any time!