By definition, open-pit mines are often located in remote areas, and can be large or even gigantic (some mines are much larger than large cities).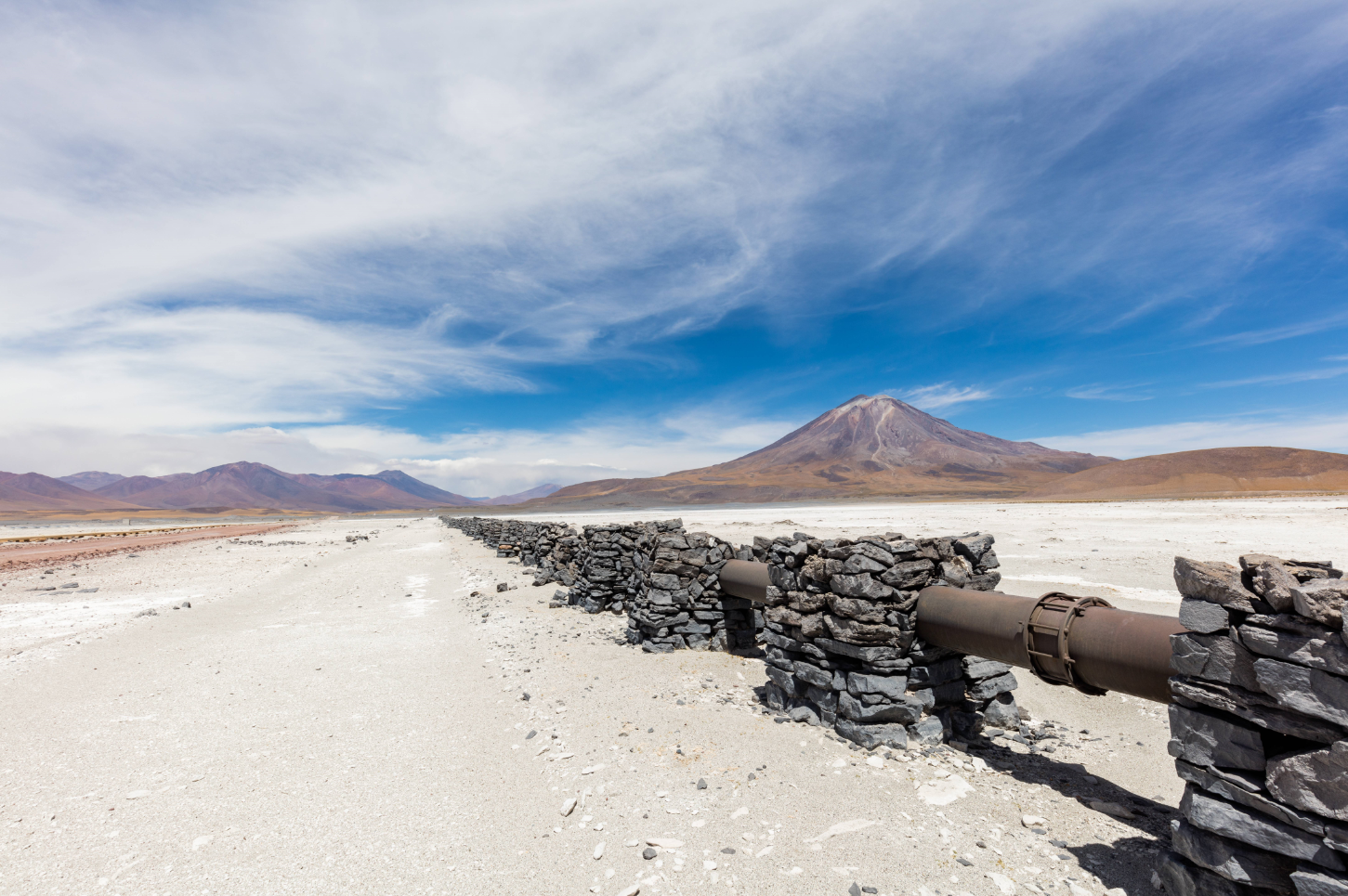 The process of operating a mine is complex and involves many industries. The infrastructure (electricity, clean water, wastewater, roads, etc.) is comparable to that of a large city, not to mention the industrial infrastructure itself.
Water is a resource that is used extensively in all areas and its supply is critical. It often comes from far away and is transported by large pipelines.
Chile's open-pit mines are among the largest in the world. Most of them are located in the Atacama Desert in the north of the country, at very high altitudes that can exceed 3,000 metres. Water is transported from the Pacific Ocean over several dozen or even hundreds of kilometres.
Whether in the water pumping stations at the ocean's edge, on the route of the pipelines or, above all, in the mine itself, the water networks are complex, with enormous flows and consequently valves that are to scale (DN1000 to 1200). Often, these valves are manual and, given their size and the torque required, require several thousand turns of the handwheel to open or close them, which represents a very long operating time. We even saw a case where 4 operators took turns for 3 days to open or close a valve!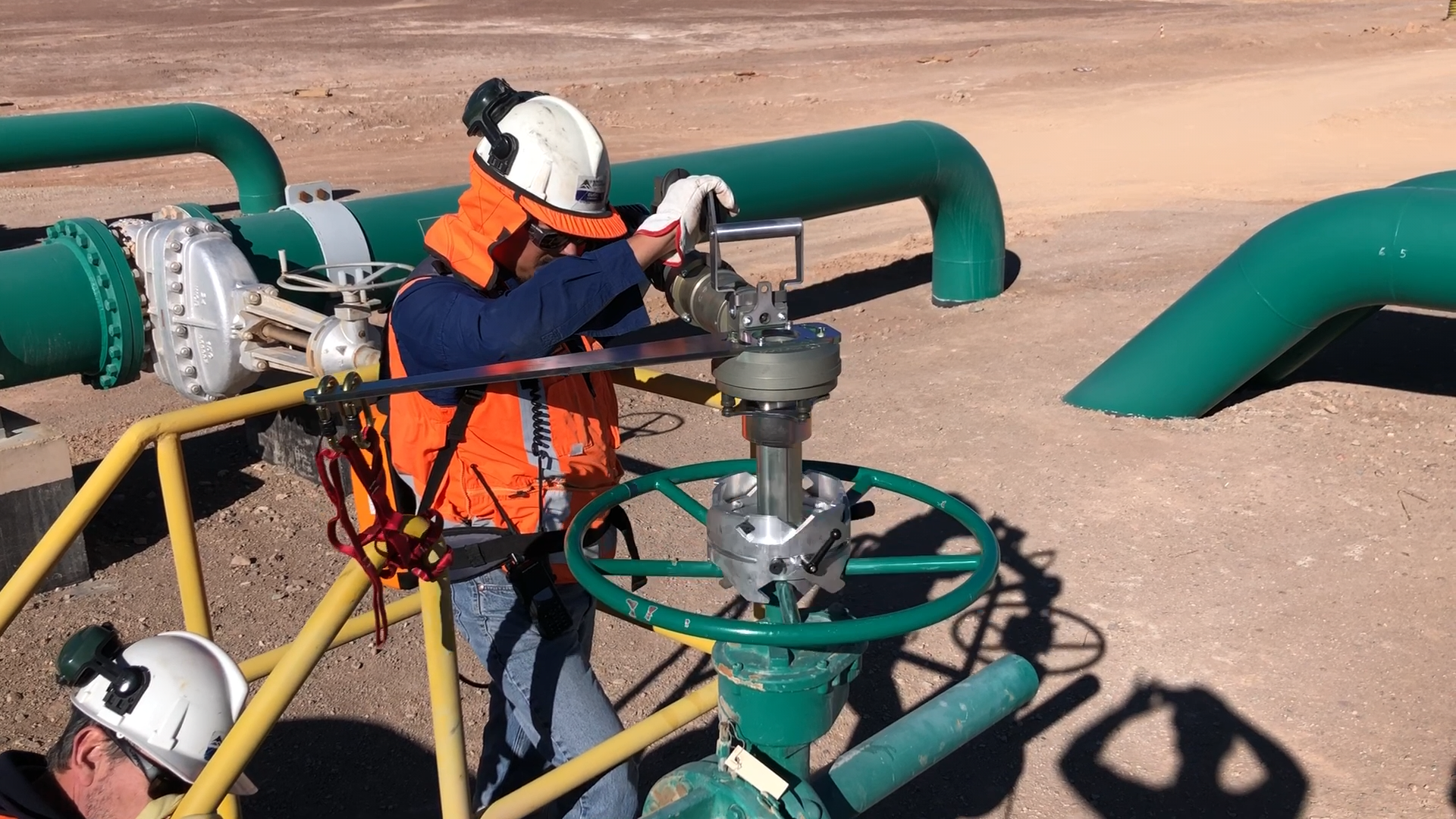 Modec portable valve actuators are used for preventive maintenance of pump and compressor stations.
Drastic reduction in operating time (e.g. the valve mentioned above is now opened by one person alone, effortlessly and in 25 minutes)

Reduced fatigue, risk of accidents and occupational illness

Protection of the valve itself with our power, speed and torque control systems

Increased valve service life due to shorter, easier and therefore more regular maintenance operations

The valves are of course located in remote and sometimes very isolated locations. This is where the Modec range is of particular interest due to the possibility of using portable battery-powered actuators (with a continuous autonomy of up to 90 minutes), or actuators with combustion engine (in this case the autonomy is limited only by the size of the petrol canister taken by the operator). For the numerous valves located in pumping stations or water treatment complexes (most often equipped with a compressed air network), a particularly powerful and light pneumatic compressed portable actuator can also be used, which can be ATEX certified on request. It is also possible to use one of the battery-powered actuators directly connected to the mains for total autonomy.





The feedback from users speaks for itself and highlights several advantages: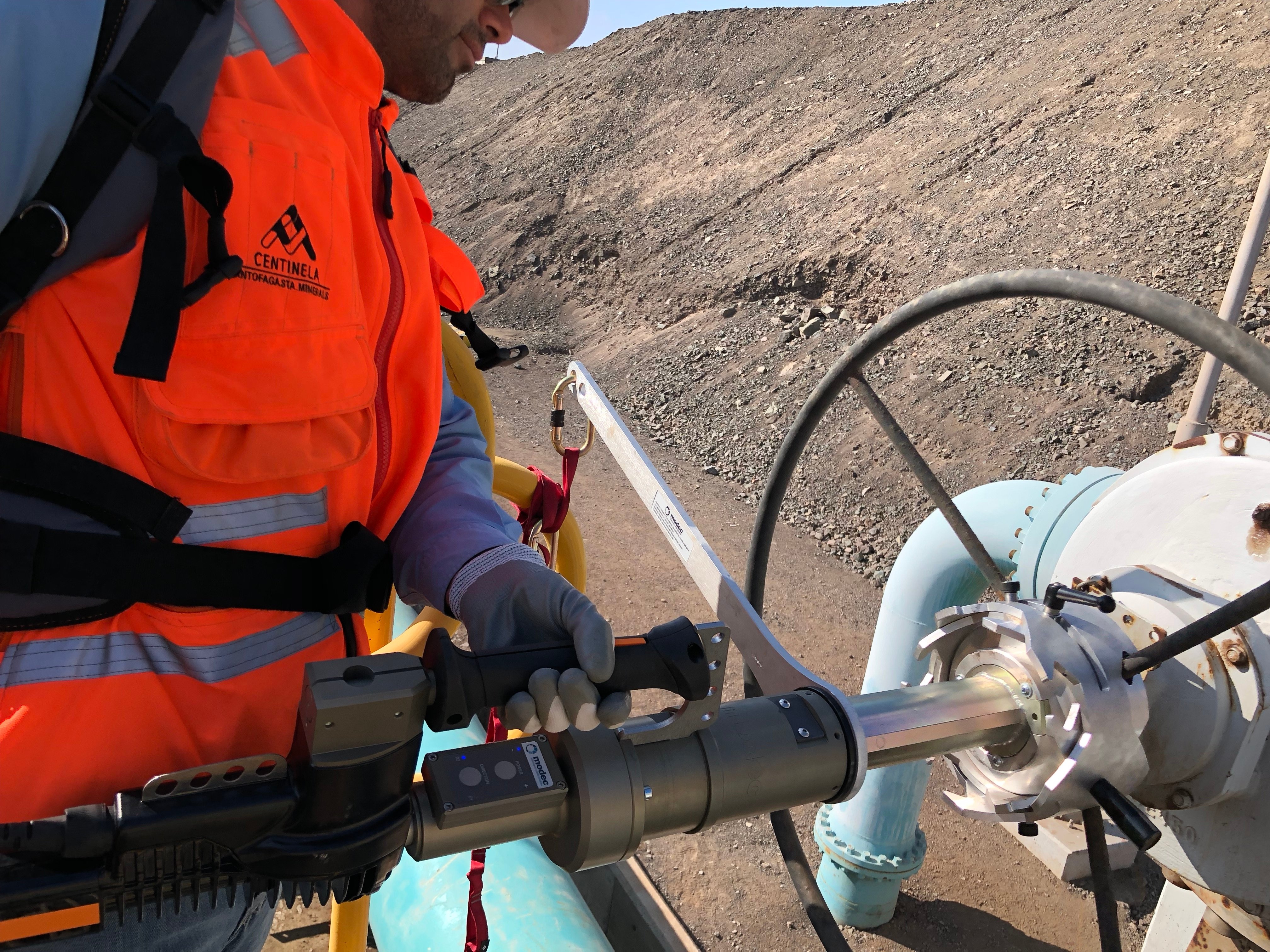 Simple installation:

The portable actuator and flying adapter can be installed in seconds.

Ease of use:

The device is intuitive, safe, lightweight and can be used safely by anyone. Some mines in Chile have even used it to improve the balance between men and women in these positions, which were previously reserved for the physically strongest people due to the arduous nature of the work.

Robustness:

Portable actuators do not require any special maintenance and are particularly suitable for demanding environments.

Versatility:

With only 5 models (2 pneumatic, 2 battery, 1 gas) and a few adapters, any valve can be handled in any environment. Whether the need is to save time by going faster or to gain strength for difficult valves, our devices are there for you.

Associated gains:

It is not necessary to look far to see the gains brought by these portable actuators: Saving time (and therefore money), reduction of accidents, sick leave and occupational illness which cost the company a lot of money, reduction of drudgery (operator satisfaction and improved productivity), drastic improvement of equipment maintenance and consequently its lifespan.
Most of the time, the feedback from new users of our portable actuators is: "Why didn't we find this sooner!"?