We were asked by one of our customers to find a solution to ensure the safety of operators when venting pressurized pipes.
Securing the operation of vent valves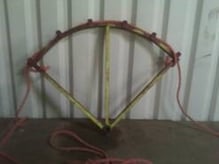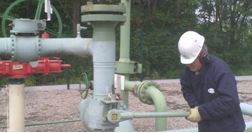 Some interventions require the venting of a section of gas pipeline. During the operation, the atmosphere in the environment of the purge valve is saturated with flammable gas and the noise created by its decompression is unbearable despite the PPE implemented. For this reason, our customer used a pantograph positioned on the valve, the operation being carried out by means of a rope. This cumbersome and not always easy to implement device made the operation dangerous, forcing the operators in some cases to perform the operation with a T-key while being close to the valve.
Minimize risks for operators
Our customer wanted the operators to be able to position a removable motorization on the vent valve, without any modification, and that the operation could be done remotely. The main points of the specifications were:
- Allow the opening of a ¼ valve DN 100 or DN 150 not equipped with reducer for venting the pipe, avoiding the operator to be close to the vent.
- Installation on any type of valve configuration: horizontal/vertical, square of variable size, possible space requirement near the valve: tapping, etc...
- Torque of about 150 to 250 N.m with resumption of forces on piping and/or on the ground or civil engineering in the vicinity.
- Slow and progressive speed
- ATEX equipment (gas risk)
- Simple installation by one person (no heavy equipment)
- Control at a distance of about 20 to 100 meters
- Maneuvering and position indicator
The ranges of air motors and portable valve actuators modec
we have been offering for many years to our customers two product ranges and numerous accessories for their assembly and control:
- A range of pneumatic motors composed of straight motors or motors with angle drive with a power from 120w to 4Kw.
- A range of portable valve actuators declined in three types of motorization: pneumatic, electric and gas.
The solution: combining air motors and portable valve actuators
It is with an ingenious combination of our two product ranges that we were able to successfully meet our customer's specifications.
In our motor range, we have chosen a motorization that perfectly meets our customer's specifications by responding to the portability issue. With a power of 490W, our MT08 range is compact, light and with a low air consumption requiring the implementation of a small compressor.
We have combined this motor with a reduction gearbox from our MT30 range to meet the need for a low and progressive speed while being able to withstand high torques generated by the operation of vent valves (high torques as they are rarely operated).
The MTZ08 is the result of this crossing of a pneumatic part and a gearbox of two different families of pneumatic motors: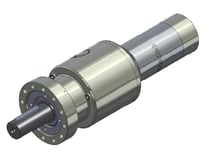 | | | | | | | | |
| --- | --- | --- | --- | --- | --- | --- | --- |
| Sous 6.2 bars | Power (W) | Speed at max (rpm) | Free speed (rpm) | PMax torque (Nm) | Stall torque (Nm) | Starting torque (Nm) | Conso max* (Nl/min) |
| MTZ08RV564AICNWC | 490 | 13 | 24 | 350 | 577 | 465 | 750 |
In order to be able to meet the mounting constraints on the vent valve, we decided to use elements from our range of portable valve actuators:
- The universal flange: this flange allows the mounting of the motor on our standard torque management systems and in particular the BA002 bi-foot, which can be oriented on demand to meet most constraints of the vent environment.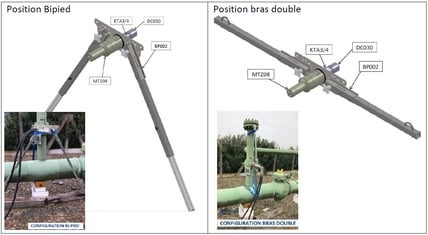 - The KTA3/4 interface that we have equipped with a remotely visible indicator so that the operator can check the position of the valve without having to approach the degassing area. This adapter has been designed to receive sockets corresponding to the vent valve-operating square.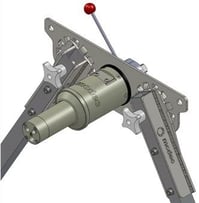 - For the piloting, we have chosen to use our AC118 safety and air treatment box, which we offer either as a complement to our range of pneumatic motors or our portable valve actuators. This box integrates a filter to ensure an ideal air quality for this type of transportable system, a pressure regulator to adjust the power of the motorization, and finally an air lubricator necessary for the proper operation and protection of the motor.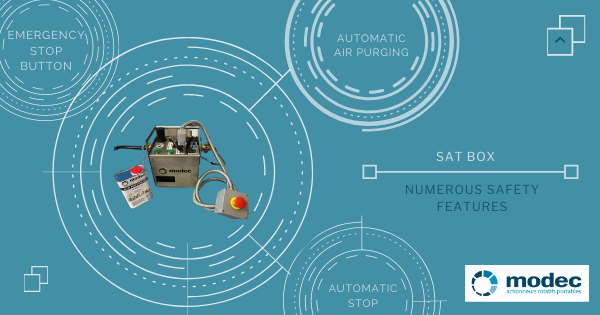 - In order to keep the operator away we have supplied a connection kit composed of hoses dimensioned to guarantee the flow to the motor despite the length. We have chosen connectors with coded pins so that the installation can be done quickly without reversing the operation of the motor.
- The entire vent valve operating kit was delivered with an Atex II 2 certification meeting our customer's specifications.
On site installation
We chose with our customer a site to test and validate the solution we had studied to meet his needs. It is after this validation that we started to deliver this solution to many customers with the same safety issues to operate valves remotely.
A reliable solution adapted to your needs
We were able to meet our customer's request thanks to our expertise in the field of valve actuation in all industries. It is recognized by all our customers that we have very good products, but this is not always enough to meet a particular need. It requires listening, understanding and being agile enough to find the ideal solution so that the customer does not have to make any compromises.