Whether it is for production, distribution or wastewater management, you can find in each of this water industry sectors a large and various quantity of valves.
How to manage such a network ? How to deal with predictive maintenance operations ? Jammed valves ? Hard / Slow to actuate ?
Water production
This activity counts a large number and a great variety of valves. With / without handwheel, flat, tapered, with / without rising stem, underground, ... We have a solution to face each of these cases in order to make easier and safer your daily valves maneuvers.
Water distribution
The water distribution network is mainly constituted of underground valves which many are located directly under the streets. To ensure operator's safety those valves must be actuated easily and efficiently.
Our portable valve actuators are designed to open / close valves without having to exercise any force or to turn around with a lever arm.
Other types of applications are also possible with our portable valve actuators like hot tapping operations. The rotation speed and the stress are controled insuring a top quality realisation and time-saving.
Wastewater
This activity records a large number of valves with handwheel. Here at modec we designed a complete range of universal adaptors in order to actuate any type of handwheels with only one portable actuator, no matter the shape or the size !
modec Portable Valve Actuator is a range of portable power tools designed to remove all the hard work when operating manual valves.
Exemples of configurations "ready-to-go" for the water industry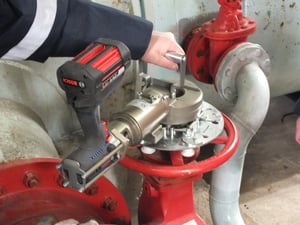 Rising stem valves
Battery powered "Easy Duty" portable actuator with banjo head and self-centering / self-adjusting fingers adaptors .

Underground valves
Battery powered "Easy Duty" portable actuator with telescopic "valve key" and foot held articulated reaction arm.
Penstock valves
Battery powered "Easy Duty" portable actuator with telescopic valve key and square drive.
Underground wastewater valves
Pneumatic portable actuator "Standard Duty" with righ angle head, telescopic "valve key" and stand for underground valves.