Modec provides 2 options for battery powered PVAs, the MC89 model and the JA73 model. Two actuators were developed to give end users flexibility in choosing a battery powered actuator, based on their requirements. Once a user decides that they want to utilize a battery powered actuator, they should consider the following criteria when choosing which Modec battery powered actuator to use:
Easy duty battery operated portable valve exerciser MC89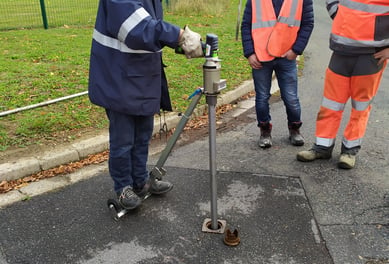 Our easy duty battery powered portable valve assist is lightweight and compact (5.4 kilos). It is sometimes the only choice when valves are in hard to reach locations and/or adjacent equipment/structure are in the way. The MC89 is only available in easy duty and standard duty versions. The RPM speed range is 0-320 rpm. RPM speed will vary depending on the settings of the actuator, the type of actuator head utilized, and the resistance of the valve being operated.
The MC89 is powered by an 18V Lithium-Ion battery that, when fully charged, provides 1 hour of usage. These batteries can be fully recharged in 1 hour, utilizing the charger. The actuator comes as standard with an integrated electronic torque limiter. When the actuator reaches its torque limit (based on the speed and torque settings), the actuator will stop and sound a beep, letting the operator know.
The MC89 can be used with all Modec head accessory options (straight, right angle, and banjo). It is important to refer to the user's manual, as certain settings cannot be used in conjunction with certain head accessories, such as the banjo head. There is also an option for a digital revolution counter.
Heavy duty battery powered valve exerciser JA73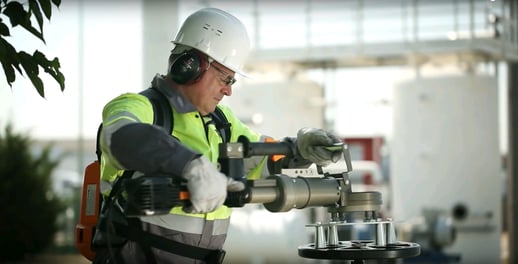 The JA73 is a heavy duty portable actuator, providing the benefits of high torque and high speed at the same time. The actuator weighs 10.1 kilos. It is available in easy duty, standard duty, and heavy duty versions. The RPM speed range is 0-360. The JA73 is extremely robust, integrating a clutch system which protects the operator and the equipment. A power limiter is included with each model and a torque limiter is available as an option. These help to improve user safety.
The heavy duty battery powered valve actuator JA73 is powered by high performance batteries that offer 90 minutes of usage. The batteries require 12 hours to be fully recharged, using the charger. The battery comes with a lightweight harness, which is utilized during operation.
The JA73 can be used with all Modec head accessory options (straight, right angle, and banjo). It is important to refer to the user's manual, as certain versions of this tool cannot be used with certain head accessories. There is also an option for a digital revolution counter.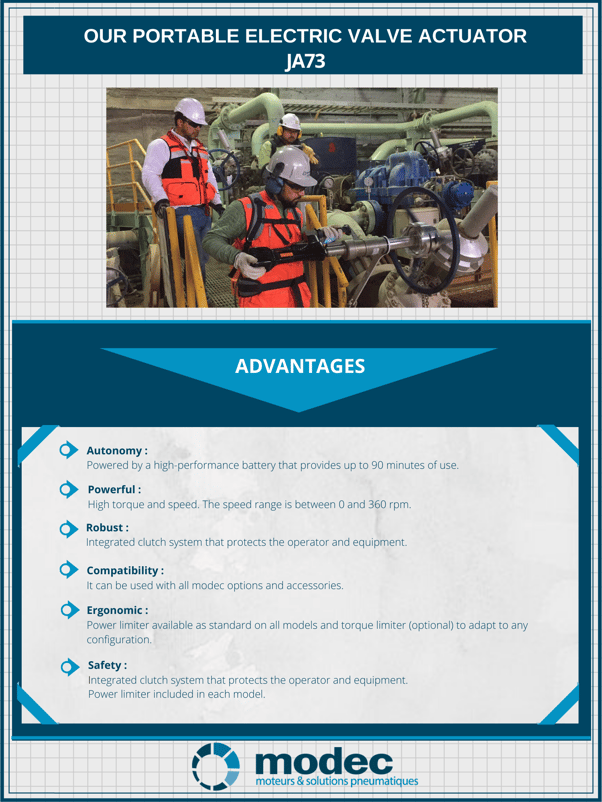 Additional Criteria for Selecting Battery Powered Portable Valve Actuators
All sites have their own, unique needs for valve operation. This is due to several factors:
Types of Valves in Service
Age of Valves in Service
Maintenance of Valves in Service
Pressure, Temperature, Flow Rates
Position of Valves in Service
These types of variables make each site unique. It is always easiest to choose the best battery powered portable valve actuator for the job after seeing the tools demonstrated on your site's particular valves. It could be that one of each PVAs could be needed.
When possible, a demonstration should be organized, bringing to the site Modec personnel or a Modec authorized distributor to demonstrate both battery powered portable valve actuators (MC89 and JA73). It is important to involve the personnel who actually operate the valves. During a demonstration, operators can evaluate criteria such as:
Weight of the tools
Performance of the tools (speed)
Performance of the tools (torque output)
Ergonomics of the operation of the tools relative to valve/hand wheel positions
Portability of the tools
Portability or Permanence of the Hand Wheel Adapters
Option Needed for Head Accessories
Options Needed for Torque Reaction Systems/Safety
What you need to remember if you are thinking about buying a battery operated portable valve actuator:
Battery powered portable valve actuators such as the MC89 and the JA73 are an excellent choice, as they provide great autonomy by not needing a dedicated power supply. Many PVAs available today are pneumatically powered. This choice can be inconvenient, especially when the valves are located in areas where there are no air supply lines.
When using battery powered PVAs, it is recommended best practice to always have at least one spare battery. Depending on times when usage is more frequent (shutdowns, outages, turnarounds, etc.), additional quantities of batteries and chargers may be needed to assure availability.
>> To learn more about our portable valve actuators, please feel free to download our catalog! <<