Can modec actuators adapt to my valve fleet?

The design of the handwheels of your valve fleet is not identical, yet you would like to find a simple, efficient and cost effective solution to use an actuator that will improve the efficiency and safety of your operators. Some may think that it is expensive and time-consuming to make adapters that fit each of your handwheels. It is sometimes difficult but necessary to take measurements of each valve to find the right fit.

This blog aims to show you that there is an ingenious alternative to solve this puzzle, reducing the time and cost for a portable valve actuator solution.

At modec we have designed a range of smart adaptors that fit and connect very easily to your steering wheels. Using simple pictures of your handwheels, we can determine together which adapter you need.

The design of these adapters has as a priority the safety and comfort of the operator, the ease of use, the efficiency, and finally the protection of your installations. In addition to having a solution that meets all forms of handwheel, we optimise the number of adapters required for your valve fleet in order to reduce your costs.

Our adapters do not eliminate the main function of the handwheel, which is to operate the valve manually if necessary. They are specially designed for use with the modec range of actuators.
The modec range of valve handwheel adaptors
Finger adapters (SUAxxx)
Ideal for all types of flat, slightly conical and/or rising stem steering wheels, this patented system is very easy to use. All you need is a single plate and removable fingers to operate a whole range of valves. Markings on the plate allow you to easily change the number of fingers according to the number of arms of your handwheel.
This adapter can be used with a straight head actuator, a Banjo Head or an angle drive.
Available in two sizes, the plate can be used for different steering wheel diameters from 75mm to 150mm.
Self-centering finger adaptors (SAxxx)
This plate is one of the adapters that do not need to be attached to the steering wheel. It offers considerable time and cost savings when you have a large number of identical steering wheels in your valve fleet.
Once placed on the steering wheel, the centring is done automatically thanks to a patented system which offers comfort and efficiency in each operation.
Available from 3 to 7 fingers, the SAxxx is the ideal actuator for flat or slightly conical handwheels. It can be used with a straight shaft actuator or a right angle head.
Arm adapters
These adapters have the particularity of staying put on the steering wheel. This allows comfortable and efficient use if the steering wheel is horizontal, vertical, or oriented in different positions.

FSB for flat and slightly conical steering wheel
This adapter has also been developed to be able to be attached to several types of handwheel in your valve park. It is available in two versions:

- The FSB245 which allows it to be attached to steering wheels with 2, 4 or 5 arms.
- The FSB356 which can be attached to steering wheels with 3, 5 or 6 arms.

Light and ergonomic, it will take less than 30 seconds to change the position of the jaws to attach it to your steering wheel.
The considerable advantage of this actuator is that it is compatible for flat flywheels, but also for flywheels with rising stem.


CSB for conical handwheels
The CSB is very similar to the FSB in its use and in the advantages, however, it has been designed for conical type steering wheels with angles of more than 30° and has protection for your steering wheel.
It is available in several variations to attach to 2,3,4,5 or 6-arm steering wheels.
Fixed adaptors on steering wheel (FUAxxx)
In some cases it may be simpler to leave an adapter on the steering wheel, to improve the efficiency of the operation, for particular steering wheel designs or for other reasons.
In these cases, the FUAxxx is an excellent option, it is very simple to install and attaches perfectly to flat and slightly tapered steering wheels.
Once attached, it offers ease of use and stability during operations. It is available in different sizes to fit flat and rising stem handwheels.
The interfaces
In addition to our range of adaptors, modec also offers a wide range of interfaces to improve ergonomics and safety when using actuators:
Extension bars
All actuators can be attached to each of the actuators with an extension, so that they can be moved away from the valve and can be connected to the valve by means of an extension cable.
Interfaces for telescopic fountain keys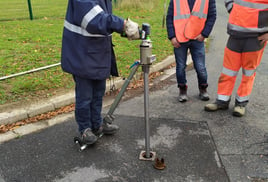 It is very simple to operate your valves with this type of interface and we recommend the use of a foot held articulated reaction arm - to improve and facilitate comfort and efficiency of use. If you work in water networks, or in underground valve parks, you will be delighted with this interface which allows you to connect your actuator directly to a telescopic fountain key.
Interfaces with drive squares
In some cases, our customers may use a spanner with a socket to operate their valves. This interface will perfectly meet this type of need, because with a square drive of ¾ inch you will be able to use any type of socket to ac
tuate all kinds of screws or bolts.

The adapters presented in this blog are part of the modec catalogue. As a flexible and innovative company, we listen to our customers' needs. That is why we also offer special and tailor-made adapters at short notice. We are always keen to respond to our customers with solutions, as this also helps us to improve our range as we go along.
Each of these adapters can be used with the entire range of modec actuators.