Since many years modec is offering the most complete range of portable valve actuators on the market.
This offer is the result of the feedbacks we have received from our customers, but also from the countless demonstrations we have carried out on site with our sales staff as well as the support of our network of specialised distributors.
Today, our offer meets all needs, whatever the application or industrial sector in which our portable valve actuator solutions are used.
The consequence of offering such a comprehensive range is that it may seem difficult to define the elements that will make up your portable valve actuator kit as well as making the right choice between the various possibilities offered by our range. Through this blog we would like to give you some tips, of course our specialized team is at your service to help and guide you in your choices.
It is the constraints of your application that will impose certain choices of technology on you.
The power supply
This is the first parameter to determine depending on the environment in which your portable valve actuator will be used.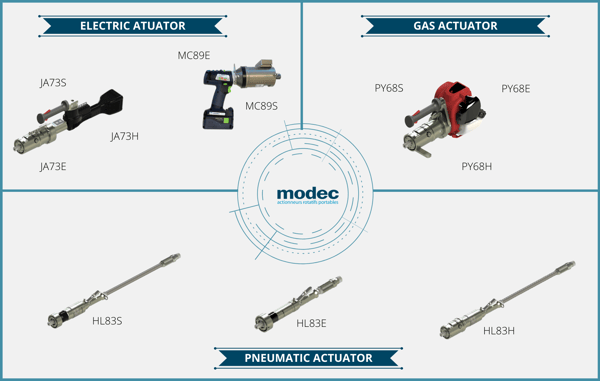 Using a portable valve actuator in an Atex Zone
If the valve is located in an Atex area the solution is to use a pneumatic actuator whose entire range is ATEX II 2 certified. An obvious choice for a closed enclosure, it is however possible to use a portable valve actuator in an open Atex area depending on safety procedures and using gas detectors.

Using an HL83 in an open ATEX area
Workshop or factory use
If the portable valve actuator is to be used in a workshop, e.g. a valve or tap production site, a pneumatic or mains power supply can be used to relieve the strain of recharging the batteries. The MC89 range offers the double advantage of being able to operate on battery or mains power.

Use of the portable electric (MC89 - left) and pneumatic (HL83 - right) actuator in workshop or factory
Outdoor use, without any surrounding energy source
It is not permitted to use a gas portable valve actuator in an enclosed room. On the other hand, the PY68 range of portable valve actuators are the perfect solution if you need to operate valves all day long in remote locations, irrigation canals, navigation channels, water reservoirs, retention basins, etc...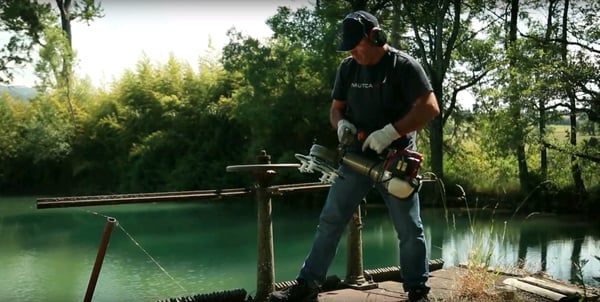 Use of the portable thermal actuator (PY68) in an insulated location
Portable electric valve actuators remain the most versatile solutions. They can be used in all industries. Offered with high performance batteries, they offer an autonomy of more than 1h30.
Performance
Once the type of energy has been chosen, the next step is to select the models that will meet your needs.
Standard Duty Performance Range
If the valve farm you are managing requires repeated actuation, long actuation times and moderate effort, such as for wall-mounted valves, we recommend that you choose a portable valve actuator type S "Standard" such as the JA73S. You will avoid the risk of musculoskeletal disorders associated with repetitive movements while reducing operating times.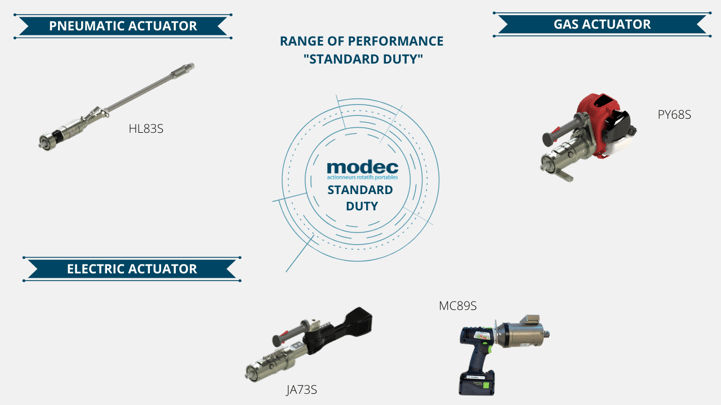 Heavy Duty Performance Range
For the most recalcitrant valves, which are difficult or even impossible to operate by one person, the valve actuators of type H "Heavy Duty" will meet your requirements. Their low rotational speed allows a controlled operation of the valve, they can reach very high torques, up to 1000Nm. They can be equipped with a torque limiter, which ensures that even the most difficult valves can be operated without risk of damage.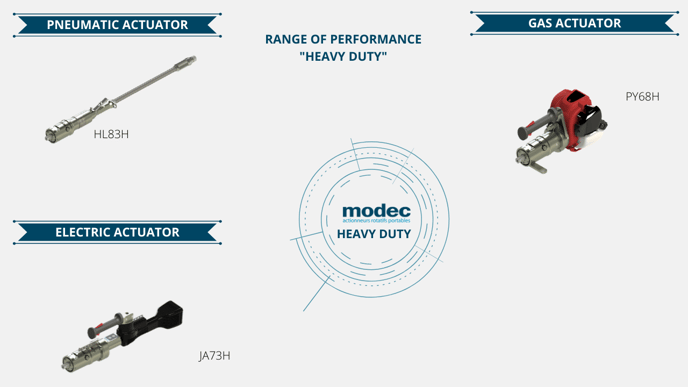 Easy Duty performance range
Operating time and the risks associated with repetitive gestures and postures are the only constraints you encounter when operating your valves, as for example for valves equipped with fixed actuators. Then our type E actuators are the solution. Their adjustable rotation speed can be relatively high, up to 300rpm. Type E portable actuators will allow you to optimize intervention times during maintenance periods or when the fixed actuator is not operational, while protecting operators from the risk of MSDs.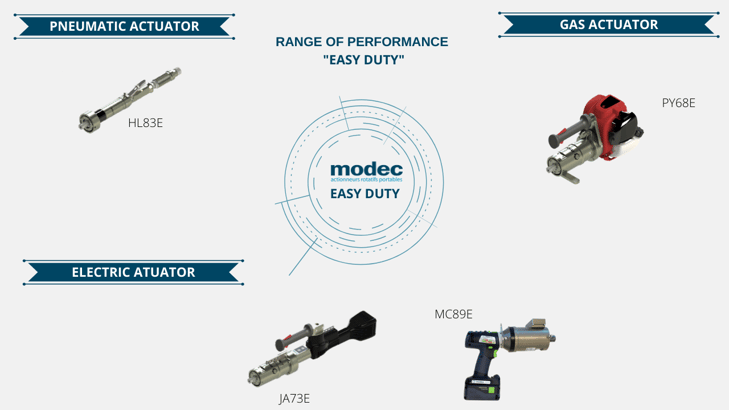 Other performance requirements
You can deal with a range of valves with a wide variety of characteristics in terms of torque, number of turns, etc.... Two possibilities are available to you :
- MC89E or S portable valve actuators with a wide range of speed and torque ranges thanks to the integrated speed selector. For example, the MC89S-077 offers a maximum speed of 44 Nm and a maximum torque of over 900Nm.
- Alternatively, you can choose an E or S type actuator, which will allow you to quickly operate valves with moderate force requirements. And for the most difficult valves in terms of torque, simply fit your E or S type actuator with a Banjo head to increase the maximum torque of your actuator by 3 or 4 depending on the model.
Type of use
The reputation of modec portable valve actuators has been built on the quality and robustness of our solutions. Thus all the portable valve actuators in our range have been designed to operate in the most difficult environments (dust, humidity, temperature, etc...) Each one offers specific characteristics to best respond to each situation.
As a result, the MC89 range of portable valve actuators offers the most compact, versatile and easy to handle solution on the market. They have been specifically designed to meet the need for quick and repeatable implementation.
The HL83, PY68 and JA73 series of portable actuators also offer the possibility of rapid implementation. As with the MC89, no tools are required for mounting and adjustment. Their design also allows for very intensive use, if necessary they can operate over extremely long periods of time without interruption.
Compatibility
All the adapters and accessories in our range are compatible with each other. Thus the same actuator can be used for all types of valves and taps, wall-mounted, underground, ¼ tower, butterfly, ball, etc...
Safety
Operator safety must never be compromised, so all our portable valve actuators are supplied with a torque recovery system. This Torque Recovery System isolates the operator from vibration, stress and shock. Safety is not an option!
In summary we offer you a table of various parameters to be taken into account when choosing your portable valve actuator.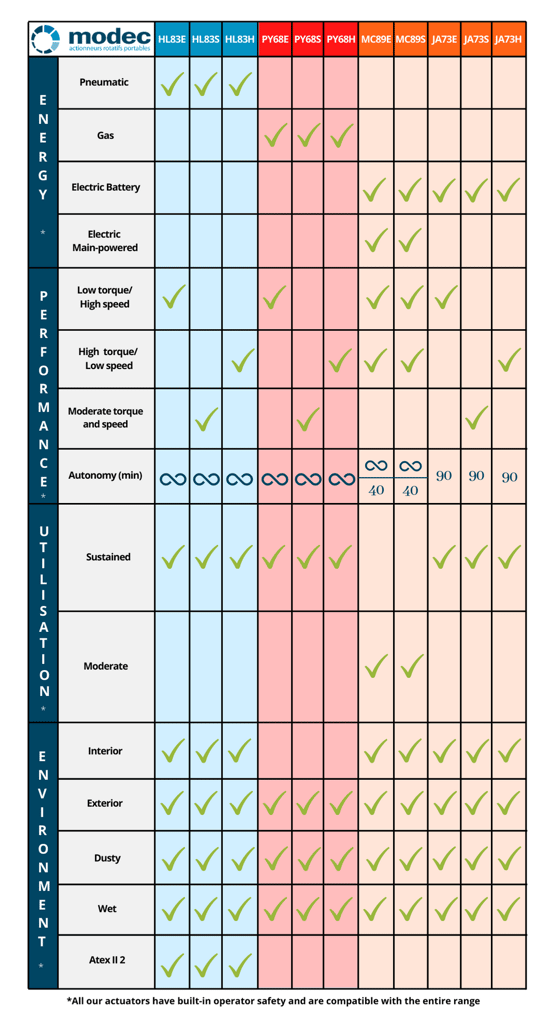 For more information, please feel free to download our catalogue of portable actuators: