Using specific tools to help operators to actuate valves is a great solution to limit risks, accidents and professional diseases. No need to force anymore: the portable valve actuator does the job by itself! And with our many available options, accessories and torque management systems operators are able to actuate any valves in every situation without been scared of having to handle the torque of the tool applied especially when it starts and stops.
#Reduces risks of traffic accidents
Concerning valves that are located on the street or near a road, it is important to pay attention to traffic accident. Thanks to our portable valve actuators, operators can actuate valves while being concentrated on what is happening around them. Actuating valves with our must-have tool is 10 times faster than doing it manually. So operators are a lot less exposed to the danger. Setting up the portable actuator is very fast and easy. Moreover, you can find many torque management systems in our catalogues to protect operators. Some of them are specifically designed for valves buried beneath roads, like the articulated reaction arm fixed to vehicle trailer hatches. This telescopic metal bar can be easily positioned between a vehicle's trailer hatch and the actuator. Another one is the stand for underground valves, designed for underground water distribution system valves.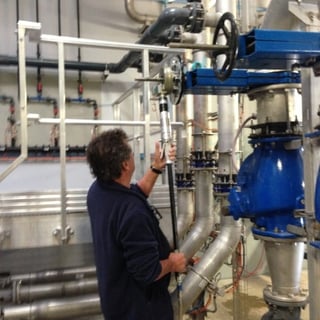 #Reduces risks of falling
Thanks to accessories and actuator drive heads it become very easy to manipulate valves even in cramped spaces or at heights. The right angle head, for example, can be positioned at a 90° angle from the actuator providing optimal positioning for operators. It becomes very easy now to actuate valves that are close to the floor or at heights. Never forget to use the right torque management system so that the torque isn't applied directly to the operators. The interfaces and extension bars that we offer in our catalogue are great to connect to every kind of valves in every situation: buried valves, valves without hand wheel, etc. We have a solution for every case, even specific ones!
#Reduces risks of injury and professional diseases
Portable valve actuators open and close valves without any effort from operators. They do not need to force or execute painful and lengthy maneuvers. Repetitive gestures related to those tasks are highly reduced and so are occupational diseases . No more backaches, hips pain or elbow tendinitis. In order to work in complete safety it is necessary to use a torque reaction system, so that the torque doesn't hurt operators. We designed many torque reaction systems, for almost every situation. Check out our catalogue to find the most relevant to you!
To manipulate hot valves, in steam lines or energy plants, don't take the risk of getting burned anymore! Portable actuators can be plugged directly onto the valves or the hand wheels without having to touch or manipulate anything. So there you avoid all risk of getting burned.
Having a tool like a portable valve actuator guarantees the operator's safety. We design our portable valve operators so they can adapt easily, quickly and safely to every kind of applications. Our range of portable actuators is adaptable to all situations and needs. It includes many options, accessories and torque reaction systems. Do not hesitate to contact us for more information.