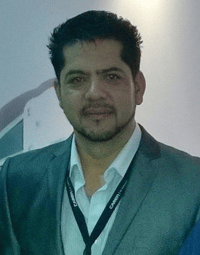 Vertycal is specialized in providing worldwide products and technologies dedicated to improve the safety and productivity of the Industrial and Mineral sectors.
" Including the portable valve actuator to our portfolio was a turning point in the history of Vertycal "

-> Industrial valve suppliers : find out here how to increase your sales
Portable valve actuator - A real deal maker
Being the representative of Modec's portable valve actuator in Chile opened us all the doors of Chile's industry, allowing us to be recognised as a first-tier technological and and innovation tools provider.
As it was an innovation in Latin America, the actuator generated right from the start a serie of demand for field demonstrations which allowed us to build great business relationships for our company and to acquire many new clients.
The national mining industry has managed to consolidate safety as its main value and axis of action. Eliminating or minimizing accidents, occupational diseases and fatal accidents in operations is a priority as important as productivity for our clients, who have high quality standards in their facilities and a strategic model for risk management in health and safety. first level. These key factors for our clients has given us a window of opportunities, allowing us to reach them demonstrating the great benefits that this tool provides such as Security, Productivity, Cost, and Ergonomics
Portable valve actuator - An innovation
Our first motivation to make a partnership with Modec was of course the vision we had for the future that the portable valve actuator was going to be a massive breakthrough in the South American market and therefore be economically very attractive for Vertycal. Indeed, we believe that the portable valve exerciser is becoming a mandatory tool in the major mining companies of Chile ! Let's not forget that we took that decision as we felt fully supported by Bruno and Pierre-Yves from Modec, that trusted us and gave us everything we needed to know to start this new adventure !
The feedback from our clients has always been positive, the processes are improved and the health of the operators are preserved. The end users also always highlight the benefits and the big support that the portable valve actuator bring them as each of the tools are customized by Modec to fit exactly their needs.
" Modec's actuators are nowadays our best endorsement "
Modec - High quality service
We are very satisfied with Modec's service which always keep to short lead times and still maintains a high quality product allowing us to improve our brand image and reputation. Being Modec's distributor represent an important financing and human investment which is why it was really important for us to feel supported and have the certainty that all the agreements would be honored as it is the case until today.
Being Modec's official distributor is a great challenge and a big opportunity for any company's commercial and economical development and I would recommend it without a doubt ! My personal advice for anyone wanting to become one of Modec's distributor is to train and understand how does the portable valve actuator work, its advantages and the targeted markets. It is an easy tool that can be customized and accessorized to the client's will, which makes it one of its big advantages at the time of sell.
Luis Avalos Céspedes - North Chile Area Manager
To contact Luis Ávalos Cespedes
M +56 9 96995714 T +56 2 32242811
If Like Vertycal you want to become Modec's official distributor in your region, clik below !