With our portable valve actuators, we guarantee that you can operate all types of valves and handwheels. However, each valve and handwheel is unique. So how, with portable valve actuators can you operate all your valves and handwheels? The answer is simple: with our standard adaptors!
We have always been able to satisfy our customers with our special adaptors, however, we know from past customer experience that you may have special requirements. Requests that require the intervention of our engineering department. Don't be afraid! Modec is prepared for this. Further on in this blog, you will see how we have designed a special adaptor for the company GRT GAZ. In the meantime, I leave you with our standard adaptors:
Adaptors that allow you to operate many types of steering wheels or outputs.
Opening valves manually is not an easy task, especially when the valves require a lot of force, several operators, or are in hard-to-reach places. To facilitate this work, we have designed portable valve actuators. This way, no matter the application, the valve opening becomes motorized instead of manual. We have 3 types of actuators that draw their energy from different sources: electric on battery, thermic and pneumatic.

However, there are many different types of valves and handwheels, each with different shapes. This is why our portable valve actuators have been designed and thought out so that they can be simply adapted to your situation.
Our actuators (regardless of the energy chosen) come with adaptors that allow them to connect to your different types of handwheels - whether they are flat, conical, with or without a rising stem or even if your system does not have a handwheel - to allow them to open/close.
Thanks to our design office, which has studied and analysed most of the valves that are currently on the production sites, it has been possible to create an adaptor catalogue that can be used to operate a large number of valves. With the same actuator and thanks to our interchangeable interfaces, you can connect to all types of handwheels without necessarily having to pre-equip them.
There are several actuator heads: straight (standard), angle drive (which allows 90° orientation of the actuator for optimal operator position) or hollow (if there is a rising stem in the centre of the handwheel).

Adaptors designed to open different types of steering wheels
For flat, slightly conical handwheels, with or without rising stem
- Finger adaptors: This adaptor attaches directly to the portable actuator, thanks to its fingers, it can be positioned against the steering wheel spokes in order to activate it. This system ensures operator comfort. This plate is compatible with all our actuators as well as our straight heads, angle heads and hollow heads.
- Fixed adaptors: Unlike finger adaptors which are fixed to the actuator, fixed adaptors are mounted directly on the flywheel before the operation. These adaptors are very useful for special and atypical handwheels or for the use of extensions if the handwheel is not easily accessible. They are also compatible with all our portable actuators and heads.
- Arm adaptors: They grip around the arms of your flywheel and are suitable for moderately tapered flywheels. They have a hollow tube in their center that acts as an extension if necessary and allows the rising stem to pass through. They connect easily to all our actuators and can be used with all our heads.
For conical handwheels, with or without rising stems
- Arm adaptors for conical handwheels: specially made to fit the arms of very conical handwheels, installation takes only a few seconds. If necessary, a hollow tube is present in their center to add a rising stem. These adaptors are also compatible with the 3 types of portable actuators and our heads.
- Fixed adaptors on handwheel: they also allow the manipulation of conical handwheels.
When there are no handwheels, but a simple square, keyed, hexagonal or other drive shaft
If you don't have any steering wheels to operate, this is not a problem. Our adaptors are also designed to connect to most commercially available sockets. Our sockets, gimbals and extensions allow our portable actuators to connect to your output. We offer a wide range of extensions that allow the passage of rising stems, so even the operation of underground valves becomes possible.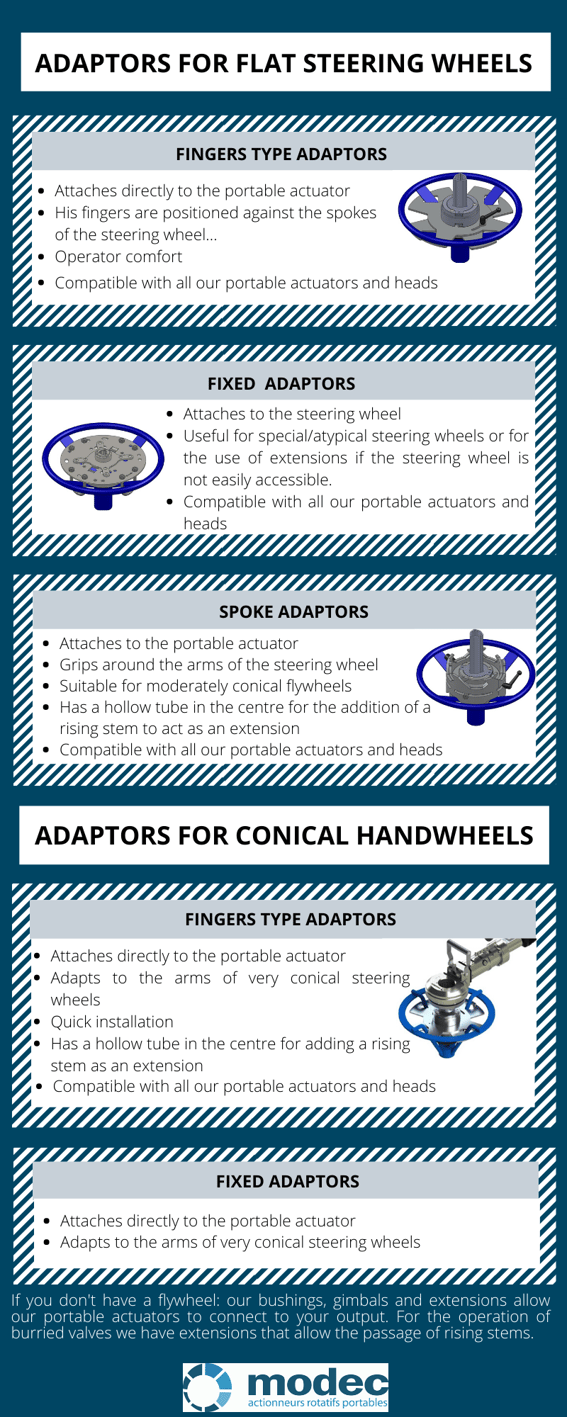 For more information and access to our full range of adaptors :
Tailor-made solutions for particular steering wheels (or for a particular request)
A design office ready to adapt to your needs
Our wide range of adapters allows us to adapt to a larger number of flywheels or outputs. However, there are special cases where some customers contact us to find a solution to operate their valve, handwheel or output.
Our design office then intervenes to study the case and develop customized interfaces. Whatever your case is, you will be able to operate your valve thanks to our tools. At Modec, our engineers are motivated by technical challenges, they work in collaboration with customers to find the best solutions. Their flexible and pragmatic approach is based on continuous exchanges and visits when necessary.
Do not hesitate to consult us!
A request for a special adapter: the case of GRT GAZ
This is what our customer GRT GAZ, the European leader in gas transmission, which owns and operates the longest natural gas transmission network, did by contacting us.
Indeed, it was looking for a solution to motorize an old valve that was very long and difficult to operate on their installations in Beynes. Manual handling of this valve took an average of 25 minutes for 2 operators to complete the 12 turns required using a lever arm. In order to gain in efficiency and comfort, they wanted to find a removable tool that would be self-sufficient in energy and would simplify the task. The standard portable valve actuator was not enough to solve the problem.
After a first visit to the site by our team, the torque was estimated at 630 Nm. So we thought of 2 options: an ATEX-certified pneumatic portable valve actuator or a battery-operated electric portable valve actuator. The latter had the advantage of being more flexible in terms of implementation and more autonomous in terms of energy. The latter option, being more flexible, was chosen.

The torque required for the application is high, so care had to be taken to ensure safe operation. We therefore decided with GRT, that a torque pick-up part - directly fixed on the valve gearbox - was necessary (photo 1). We therefore developed it to be specially adapted to the valve. This would allow the operator to avoid a torque reaction at the start and at the end of the actuator stroke since the operator would not need to hold the tool (picture 2). In order to avoid the operator having to support the device, we have added a flange (picture 3) to our actuator which is directly attached to the platform.
Our team went on site a second time to take measurements to design this flange which, in addition to fulfilling the torque take-up function, had to be easy to install.
Once the design and manufacturing was done, our team travelled one last time to deliver but above all to test and train the operators in the use of this new tool.
In conclusion, modec's expertise succeeded in opening this valve in one minute while combining safety, simplicity and efficiency. GRT GAZ is satisfied with the solution proposed to them, they testify :
To learn more about our portable valve actuators, please download our catalog or our case studies to discover other applications.
To find out which adaptor requires your handwheel/output or to see our entire range, download our adaptor selection guide: