The new modec portable valve actuator for applications in the water industry. It is a high quality tool for professional use, suited for industrial use.
It brings safety to the operator by giving him an ergonomic working position, without constraint for the wrists, elbows, back... and by avoiding the most common MSDs.
The equipment is also protected by its integrated torque limiter, which controls the force applied to the valve and ensures that the starting, operating and closing torques are respected.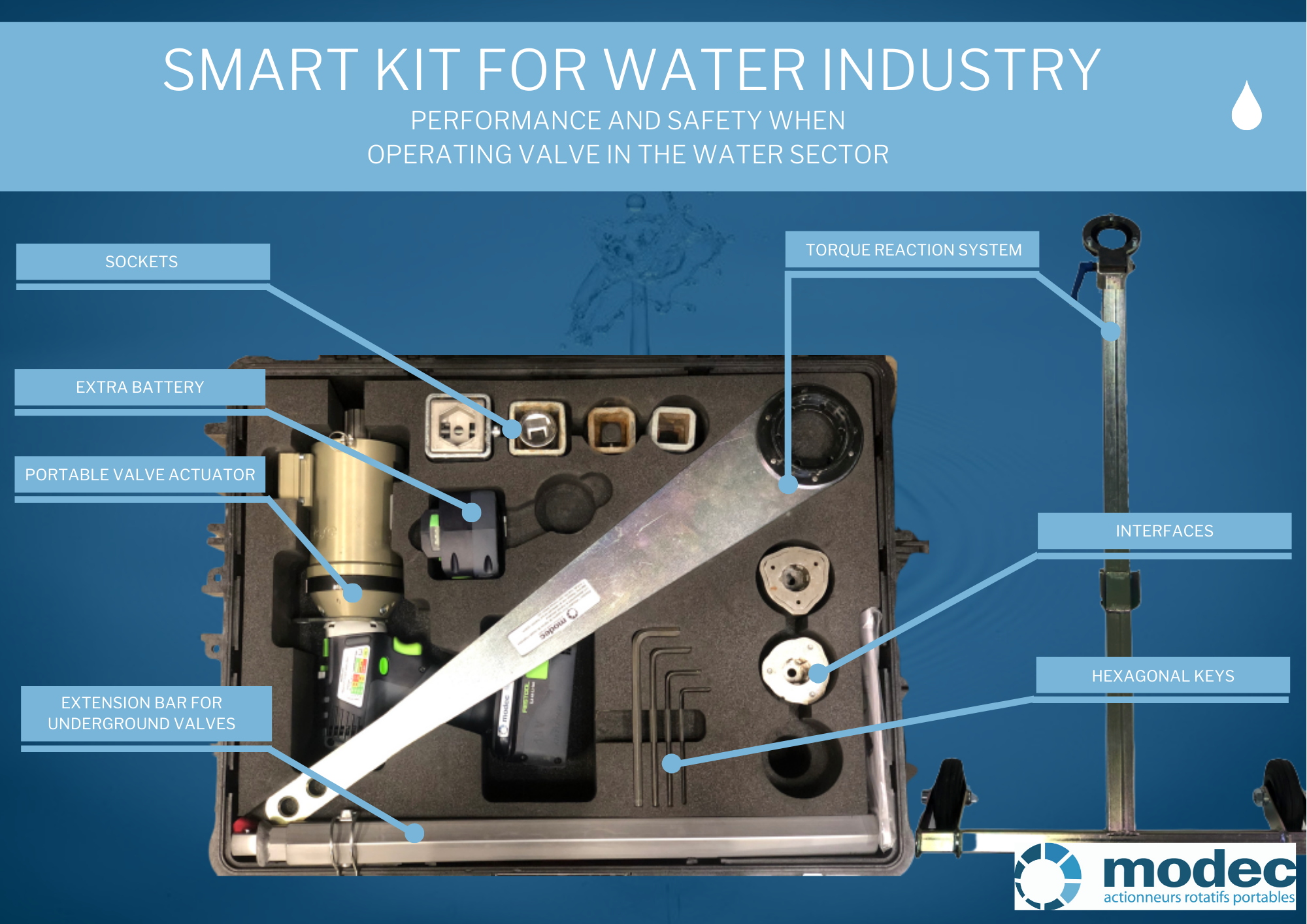 Modec has designed a special kit for the water sector consisting of:
A portable valve actuator (MC89) and its two batteries
A torque reaction system (BR001) + a strap and two carabiners
A torque recovery of the articulated arm on foot (BA002)
An interface to mount the fountain key (KHA001)
A telescopic extension (EB001)
A storage case (VT005)
The new MC89 portable valve actuator: a powerful tool
Thanks to its variable speed from 0 to 44 RPM it can simulate manual opening, provide comfort and save time during operations, without ever damaging the valve (water hammer) due to high speed.
In addition, thanks to its high torque (930 N.m) the MC89 portable valve actuator can open difficult valves that have not been operated for a long time.
It has a very long battery life, 45 minutes per battery, and unlimited as long as the user provides enough batteries for the operating time.
The transport of the actuator, although lightweight, is facilitated by the foot held articulated reaction arm. Its wheels allow the actuator to be transported from one valve to another without forcing and tiring. You can see different setups below: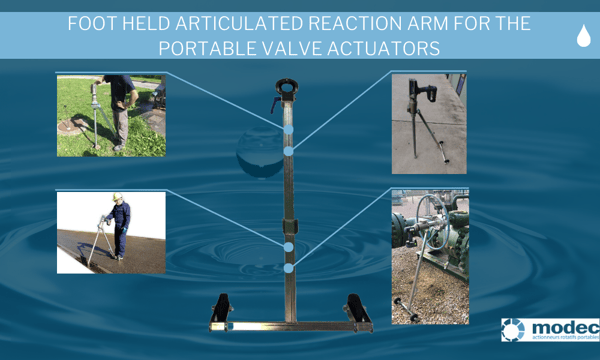 To store all the accessories, you can pack them in a high-quality roller transport case with dedicated slots to protect the equipment from bad weather, dust and soil. A single glance at the suitcase and you can check that everything is in order.
The MC89 portable valve actuator for different water sectors
Portable valve actuator - Water production
In the water production field, a multitude of setups are possible: with or without flywheel, flat, conical with or without rising stem, insolated, underground... Modec has a solution for all situations while guaranteeing the safety of workers and equipments as well as efficiency in your operations.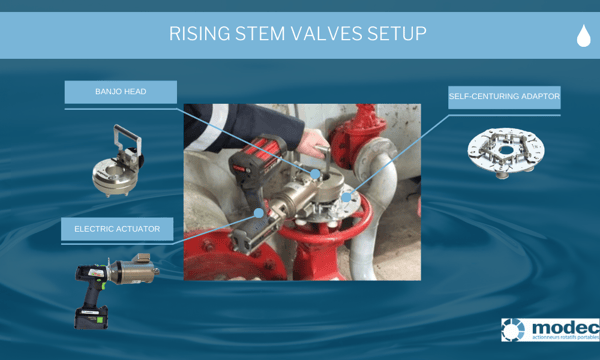 Portable valve actuator - Water supply
In the water distribution system, many valves are buried under the roadway. When these valves are manually operated, the safety of the operators is not guaranteed. Thanks to our portable valve actuators, the operators no longer have to turn around the valve using a lever arm, they can therefore focus their attention on the surrounding risks. Handling the valve is more efficient and less risky!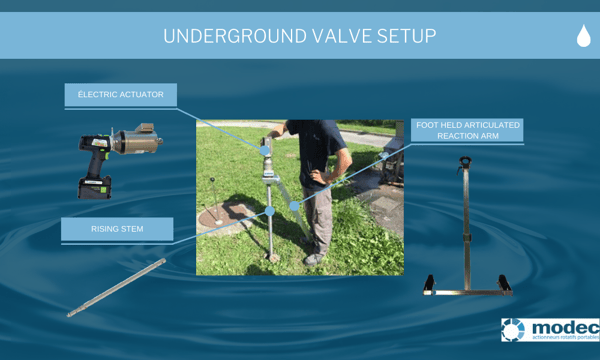 You can also use our portable valve actuators for drilling operations on cast iron pipes.... The rotation speed and efforts are controlled, which saves time and ensures a high quality of execution.
Portable valve actuator - Sanitation
Our portable electric actuator is the essential tool for operators to easily and safely operate your penstock / cofferdam gates. It is easy to transport, to set up and autonomous, ideal for isolated valves with no energy supply.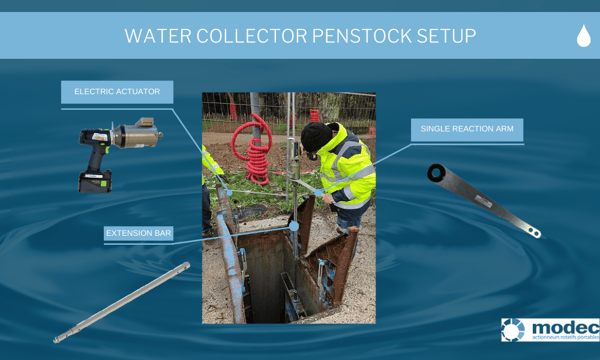 This activity includes a large number of valves with handwheels. We developed a range of universal adapters that allows you to operate a multitude of steering wheels, no matter the shape or size, with a single actuator!
With the modec portable valve actuators, you can ease valve operations while ensuring the safety of the workers and equipments.