In order to operate manual valves in a simple and safe way, we offer a range of portable valve actuators working on three energies (electric, pneumatic, petrol).

Valves sometimes have a high torque or require a lot of turns, these operations can be dangerous in the short or long term for your operators. This is probably one of the reasons why you are considering the use of a portable valve actuator.

In order to pursue this safety approach and thus protect your operators, we have developed a range of torque reaction systems that can be adapted to all situations and environments.

Indeed, our actuators can deploy a torque of up to 1000 Nm. Applying such force to an operator can have serious consequences, not to mention material damage to your equipment.
A range of torque reaction systems adapted to all situations and for all our actuators!
Single and double reaction arms
Our actuators are supplied with a torque reaction arm which enables the torque to be controlled by a strap attached to the end of the bar and to a fixed point in the working environment. In this way, the operator is not exposed to the torque reaction, in particular at the end of the process.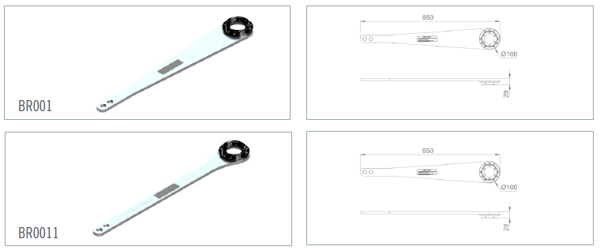 All our portable valve actuators come with a torque reaction arm.

The BR001 is made of steel, which allows it to support a torque of up to 1000Nm. It is therefore delivered with actuators that have a high reduction and deliver a high torque (for valves that are difficult to operate).

The BR011 is made of aluminium, which can maintain a torque of 200Nm and is therefore suitable for our actuators that can deliver a high speed (for valves requiring a lot of turns).
Articulated reaction arm fixed to vehicle trailer hitch
This telescopic metal bar can be easily positioned between a vehicle's trailer hitch and the actuator. Ideal for valves buried beneath roads, or for any valve which has an upward facing handwheel.

The BA001 can withstand a high torque (up to 1000Nm) for valves that are hard to operate but also require a lot of turns.
Foot held articulated reaction arm
You don't need to attach this torque reaction system to anything – By simply standing on the reaction arm, the operator doesn't need to carry the torque reaction with his arms, his own weight does the job !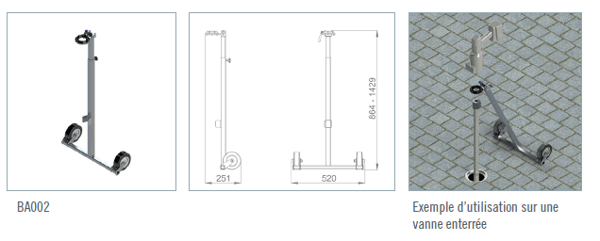 The BA002 can maintain a torque of up to 350Nm. It is ideal for opening and closing underground valves.
Stand for underground/buried valves
Designed for underground water distribution system valves, this stand makes the actuator easy and safe to use with a telescopic «Tee-key». Light and pliable, it's simple to transport with the two wheels, takes up minimal space and can be erected in a couple of minutes using just a few knurled
screws.

The SE001 can withstand a torque of up to 350Nm.Once in place, the stand – not the operator - bears the load of both the torque and the weight of
the actuator. It's the perfect tool for water distribution system operators.
Telescopic bipod
The bipod is simple, small, easy to use and practical. It's adapted for use in a wide variety of situations.
With its two telescopic legs and a flange that can be placed in any position, it redirects the torque without any difficulty into the ground, a wall or any other fixed point.

The BP002 can withstand a torque of 1000Nm and is therefore suitable for all types of valves: with or without high torque, with high or low speed.
Other torque reaction systems
These flanges are designed to be used with a specific valve or system. Before using it, you need to equip the valve with a fixed system on to which the actuator can be placed. Some of them therefore require some preliminary design but thereafter the flange is perfectly adapted to both the system and application.

This flange is particularly useful for valves and systems that do not have a handwheel and need activating regularly.
These flanges are made to order by our technical department based on the specific characteristics of your system.
The following is a summary of the torque reaction systems available with our portable valve actuators: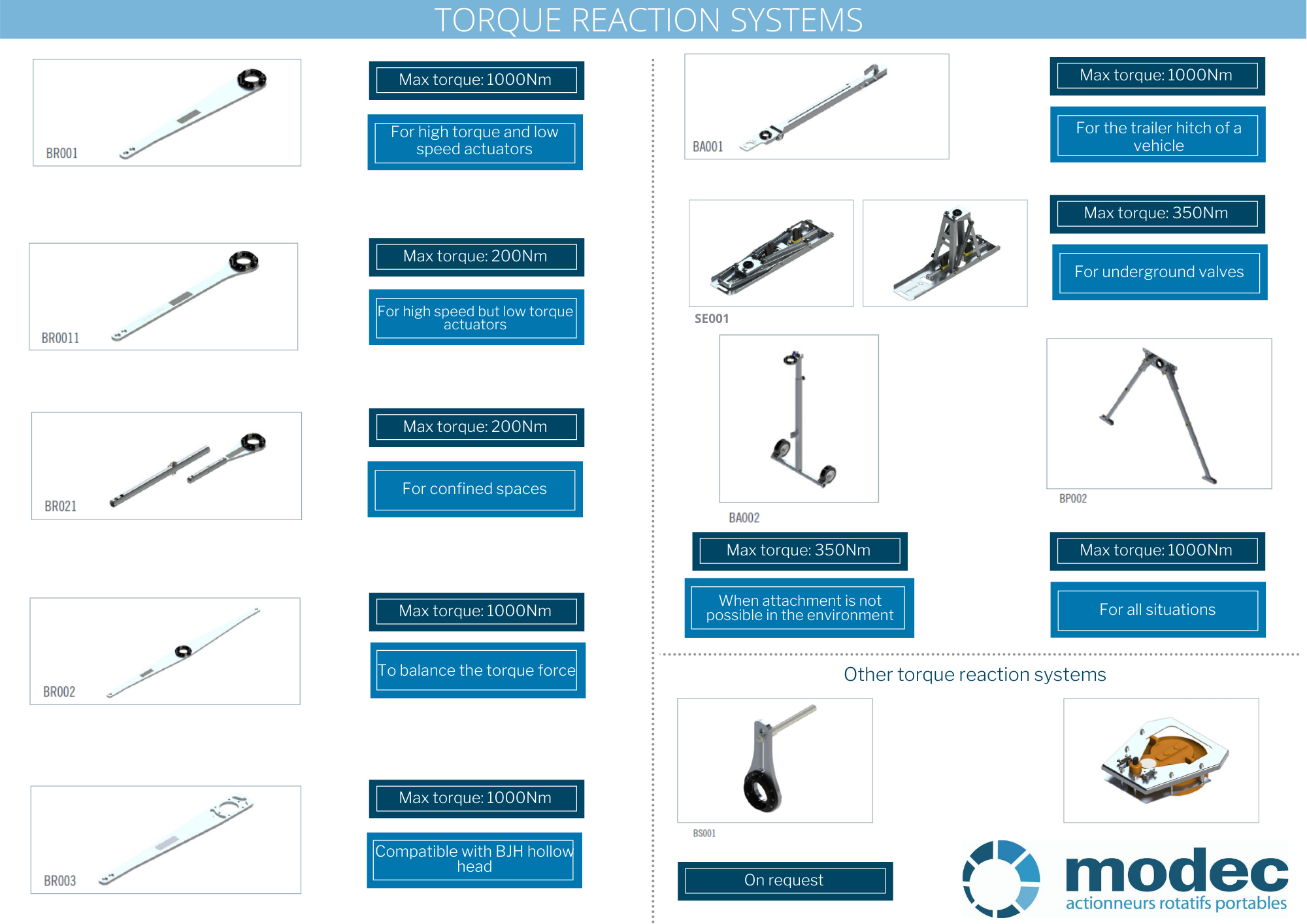 Configuration examples of our torque reaction systems: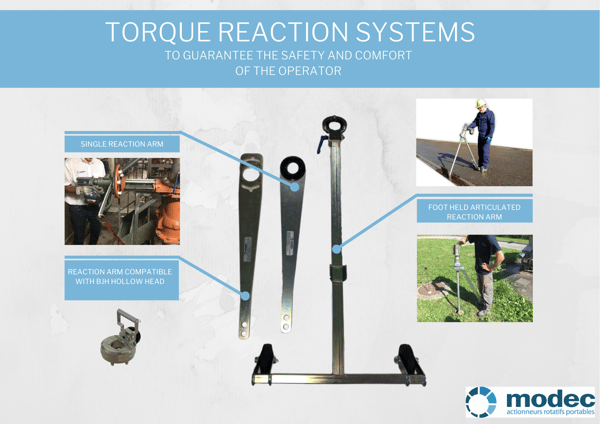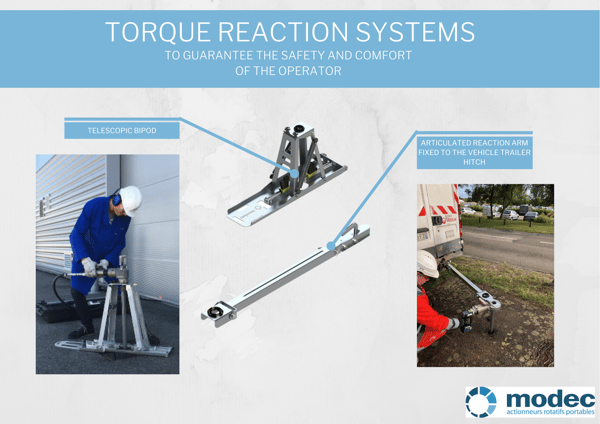 To find out more about our portable valve actuators and discover our torque take-offs and accessories, download our catalogue!