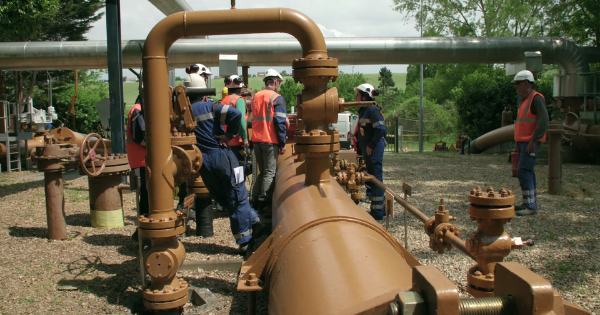 The energy transition is necessary to store the energy produced. It is a key point to develop the production of energies of green energy and to supply it to consumers at all times. So far, the economic and efficient way to store energy in large quantities is to store it in the gas form injected into underground reservoirs.
These gas storages are usually close to the areas that require energy. It ensures uninterrupted energy supply and can meet peaks in demand during the winter, whether climatic, geopolitical, social, etc.
Energy storing is important to manage the consumption peaks and to provide enough energy during the winter, a very demanding period.
Better understanding of the different gas stored
In order to optimize storage capacities, gas is compressed before storage. Here is how:
- "Aquifer reservoir" storage: stores the gas between two pockets of water, that creates a natural sealed reservoir.
- "salt cavern" storage: dig out inside layers of salt into caverns.
- "Depleted gas reservoir" storage: the gas has been previously extracted.
Storing gas into natural reservoirs allows lining up the production volumes with the consumption volumes.
There are different kinds of gas for renewable energies:
- Biomethane: produced from farm, food waste, green, …
- Hydrogen: produced from non-used renewable electricity.
Biomethane storage
Biomethane is a renewable gas produced from organic waste of agricultural or industrial origin that can be stored in underground reservoirs, as other gases.
In addition to large-scale storage, a simple and effective process based on the principle of liquefying Biomethane, storing it in liquid form and then regasifying it for injection.
This solution allows to recover all the Biomethane produced by operators and to optimize the operation of network infrastructures by storing summer production, for example.
Hydrogen storage
Big gas suppliers think that renewable hydrogen can be a bright solution to increase the full potential of renewable energies and carbon-free energy solutions. Hydrogen can be used in industry (chemical, electronics, metallurgical, etc.) as well as in transport (to extend the range of electric vehicles) and can be stored in large quantities into salt caverns.
Produced through the Power-to-Gas process, hydrogen offers a large-scale storage solution for renewable electricity. In addition to decarbonising industrial or mobility uses, the hydrogen can be converted into electricity after storage, using fuel cells that only emit water.
Renewable hydrogen can also be combined with CO2 to form synthetic methane. It has the same properties as natural gas and can then be injected into transport, storage and distribution networks for industry use, local authorities and individuals.
Synthetic methane production thus provides an energy used for the CO2 emitted by industrial sites, and hence contributes to the decarbonisation of the energy mix.
Gas storage is a key issue in the energy area. It is the only way to adjust the balance between consumption and production. Such places are equipped with big pipelines and to control the gas flow, there are many valve operations to do.
How to operate the valves of the gas pipelines?
Of course, many valves are equipped with fix actuators. However, such solutions are expensive and due to the remote place were the gas is stored, it is sometimes difficult to install and leave them.
Also, fix actuators are expensive to maintain. The manual operation are common even if it takes more than twenty minutes and several operators. Due to the high torque, it is exhausting to do and it can cause some injuries to the back, shoulders, elbow or wrists.
For those manual valves that are not equipped with a fix actuator, you can use portable valve actuators. Easy to transport and pluggable on any type of valve, it is the perfect solution. Here at modec, we are aware of the challenge you are facing with the environment of the valves. We can provide an actuator that is Atex and therefore suited for explosive areas such as gas storages.
A pneumatic portable valve actuator to actuate the valves of the gas pipelines
These actuators are full pneumatic and offer a large range of options as an integrated speed control handle and a dead man handle to prevent accidental using. They are equipped with an integrated torque management device that will transfer the torque required to operate the hand wheel from the valve, directly to a fix point. It prevents operators' injuries.
In order to prevent any damage on the valves, we have split our range of actuators into three different sizes from the easy duty to the heavy duty:
- The easy duty actuators can reach 65 N.m,
- the standard duty up to 250 N.m
- the heavy duty 1000 N.m. If it is not enough.
We can also add a torque limiter on the actuator to control the maximum torque applied on the valve. This torque limiter is adjustable with a trigger by more or less 40 %.
When required, we can also use the torque management system as a support that will carry the tool. No need to force, the operator just have to control the actuator. No need to carry the solution.
Example of our customer GRT GAZ in France
One of our customers, GRT Gaz in France, have found at modec a custom-made solution that full cover their request. We have built an interface between the actuator head and the valve, in order to simplify the actuator's installation and offer an easy way to control it.