If you are an industrial valve supplier and never heard the words "portable valve actuators" then this article is for you! Those three words could change the future of your company. I known it seems a lot, but trust me, it is worth it. And here are 6 reasons why: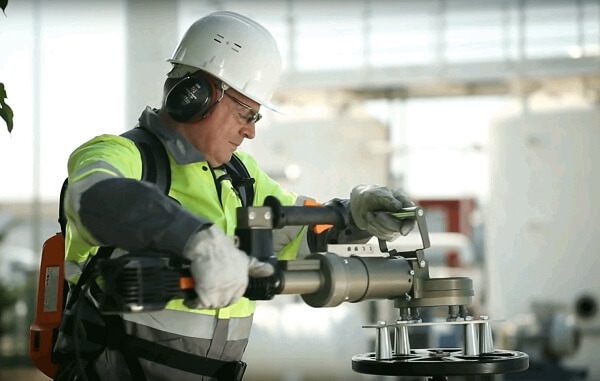 Find a memorable product to secure a demonstration with your prospect
You are selling pipes, valves, fittings, but you feel like you are missing a special product that could make the difference in your leads' mind? Well, we have what you need. Selling portable valve actuator is a door opener: future clients are always looking for innovation in improving their safety processes, or even just to be more effective. It is the best way to catch the attention of your prospect in order to then introduce them to your complementing products and/or services.
Distinguish yourself - Discover an innovation inside the industrial market
If you feel like you have your market well in hand but are always looking for new opportunities then the portable valve exerciser is a good way to thrive. It can be employed in many applications such as power generation, paper mills, metal, food-processing industry. It is a well manufactured and robust product.
Portable valve actuator: One demo = one sell
With the portable valve actuator, you can be sure that once you have done a demo, you will sell. It is a unique product on the market and there is many demand on the industrial market. Imagine so many valves; you cannot put a fixed valve actuator on each of them. Find out here the 3 reasons to use a portable actuator.
Check out our distributor's testimonial in Chile
Catch everyone's eyes on an exhibition
Are you ready to have all the attention at exhibitions? Because that is what you will get if you bring a portable valve actuator! People are always curious about innovations, and, moreover, if it can improve their company's productivity, you can be sure to convince everyone. It is also a way to drag people to your booth in order to discover your other products.
Modec also participates to all the industrial exhibitions throughout the world such as Valve World Americas and Valve World Dusseldorf . It is one of the easiest way to collect leads as visitors are already qualified. We directly forward the distributor in charge of the region all the leads we collected.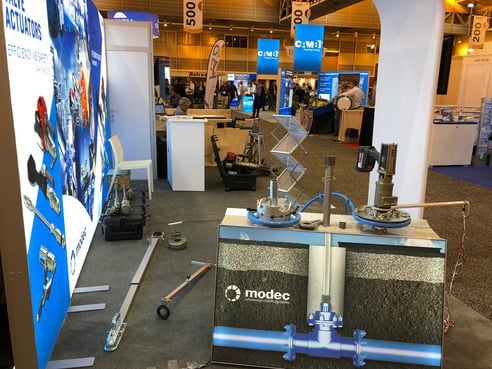 One tool for all handwheels
The portable valve actuators are adaptable to any activity domain such as refineries, water distribution and treatment, paper mills plants, process industry, oil & gas, mining … The product can adapt to any handwheels or square nut.
Check out our distributor's testimonial in Netherlands
An amazing assistance that always has got your back
If you have ever felt like your manufacturers are not driving you toward success then you should try to work with us. It is in our top missions to build premium relationships with our distributors. We believe that they are our representatives abroad and therefore deserve our greatest efforts. That is why we developed an amazing marketing content including videos, social media posts, etc. And if you need anything in particular, we are always ready to offer you customized help.
One of our main differences with our competitors is our short lead times thanks to our stocks located in strategic places of the world (for example in Atlanta, GA,USA).
It doesn't matter where you are located, the person responsible for your region here at Modec will come to you in order to train and capacitate your sales team for first demonstrations of the portable valve exercisers.
Last but not least, we have been developing since 2012 an amazing marketing strategy based on the principle of inbound which brings us many new qualified leads visiting our website. The one located in your area are directly forwarded to you.
We believe that if you choose to join the #Modecfamily, that you will be encouraged and optimistic about the potential to build a solid and growing business in your area. We will make you eager to work with us!