There are a lot of different ways to operate industrial valves – a manually opened valve or a motorised valve operated in proximity or remotely.
Not all valves are motorized, for technical reasons or lack of funds. But if you are reading this, you probably are looking for a way to actuate your valve network, to ease the task of your operators or to speed up your valve opening and closing processes.
Here is a non exhaustive list we have prepared for you gathering all the tools we could think of to help you operate your valve network:
So what tools can you use to actuate your valves ?
Well first of all, you can use your strength !
For sure, it is a common method, and the valve manufacturers design the valves to be operated by hand when the valves are brand new. But what happen after several months or years…? The rust, the corrosion, the deposit inside the line jam your valves and it becomes very difficult, sometimes impossible to operate them by hands.
Also, operating valves manually carries risks, whether for the operators (risk of professional sickness, or injury) or for the equipment (damage materials and potentially damage fixtures and fittings).
If you are reading this, maybe you have already figured out that actuating your valve network manually is not the best solution.. Don't worry, we have other options !
To operate your valve network, you can use manual F keys :
One of the common tools we can find around valves in a valve network is the F key. Quite handy, this tool can fit to a wide range of valve and handwheels. Easy to use, light and cheap, you can find it abundantly on plants.
However, be careful, this simple tool can develop a very high torque due to the length of the key and the force applied by the operator on the valve. It is very easy to damage the valve, indeed, you don't have any control on the force you are applying.
Also, the operator is still operating the valve by hand. The risks of injuries and professional diseases we were talking about earlier are still present.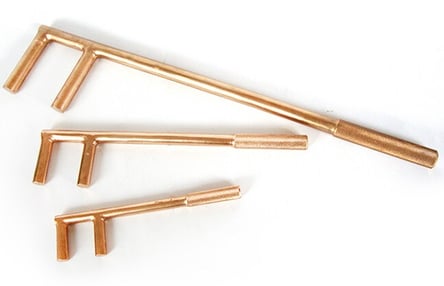 To actuate your valves, you can use fixed actuators
Of course, it is a practical solution. You can find on the market many fix actuators for every kind of valve. Even for hazardous environment like Atex zones.
However, It is not always possible to furnish valves with a fix actuator. This actuation method occupies space and you need to install a remote control; it will offer a good solution to schedule some frequent operation to prevent the deposit inside the line. However, it represents an important amount of money to install a fix solution on each valves even if there is enough place around it. Also, there are a lot of remote places where it is not possible to plug the actuator motor.
Secondly, some fix actuators are built on a dedicated range of torque due to the power of the motor used to drive the actuator. It is very frequent that the power required becomes more important than the power generated by the valve and in that case you will have to "help" the actuator and manipulate the valve manually with the emergency hand wheel. Will it take too much time and resources? Indeed! The gearbox that allowed the operator to manipulate genteelly the valve, will also multiply the number of rotation by the reduction ratio. You may have more than 200 turns to do on the hand wheel. Imagine the time required to do that …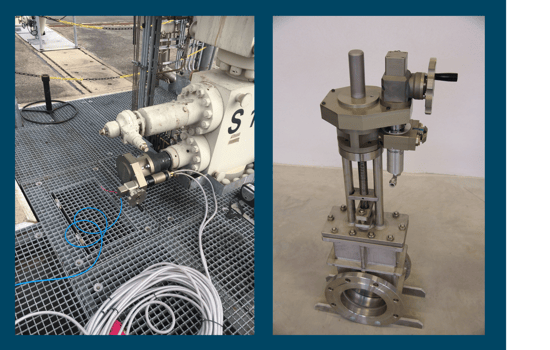 Finally, a fix solution will also require a greater maintenance. You will have to maintain the valve but also the actuator on it…
There is a very simple solution that can motorise manual valves, thus minimising these risks – the Portable Valve Actuator. With this tool, you can open valves and handwheels with a simple, fast procedure. It's the perfect device for operators, allowing them to work efficiently and in optimum safety.
Actuate your valve network with the portable valve actuators:
This tool also gives an extremely good return on investment.
With a single portable actuator, you can turn several types of valves and handwheels – and there's no need to install any equipment in advance. You don't have to change a single thing on your plant. So operators can actuate valves much more easily and quickly without risk of injuring themselves or damaging equipment. Our actuators are built to work intensively, you will be done before them !
The Portable Valve Actuator enables you to:
The Modec portable valve actuator has numerous advantages. With three available motorisation feeds (electric, pneumatic and thermal), plus a large range of accessories and torque retention systems, you can count on a reliable, robust and easy-to-use tool.